Thunderstorm (eBook)
Jump to navigation
Jump to search

For other uses of the name Lilith, see Lilith (disambiguation).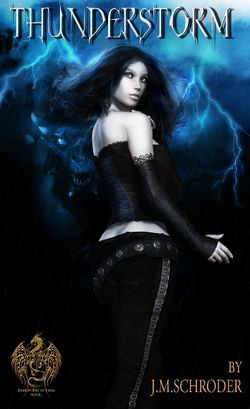 Thunderstorm is an eBook written by J. M. Schroder. In this work the character Dika Edens and her sisters are the daughters of Lilith.
Book Details
Title: Thunderstorm
Author: J. M. Schroder
Format: eBook Format
Publisher: Schroder & Associates
Language: English
Length: Novel
ASIN: B00APRACCE
Release Date: December 15, 2012
Book Synopsis
What you thought you knew about the Bible....is about to change.
What if you found out you were the granddaughter of the first woman, no not Eve, but Lilith? After 150 years Dika Edens, the oldest of 4 girls each destined to live forever finds out that very thing. She is not sure if it is a curse or a gift from the Gods. All she knows is the man that has informed her of this has way too much guilt on his shoulders regarding her and her past. Chrome is her Guardian but that does not mean he can protect her from everything. He should be the first one to know that - since he is the one telling her that she must save the world.
My name is Dika, I am an American born Hungarian, Polish, Spanish Gypsy with a little bit of something special, born right here in the green state of Oregon, home of the Beavers. History would be changed in a matter of a few words spoken from the man that has been haunting my dreams. My sisters and I need to save the world and if we don't the Universe will cease to exist as we know it.
My name is Chrome Jai, Dragon Guardian to Dika Edens, created to protect her from the evils of the first human woman mother of mankind. I will protect her as she fights to save the humans, but her first assignment will be to make it through the first 48 hours and find her Aunt and her Grandmother.
We will go together to hell and back just to fix the mess of the Gods and man.
Book Review
At the time of this article's addition to the SuccuWiki, no book review was available. Tera has purchased this work and will review it as soon as possible.
External Links