The Amber Cross (eBook)
Jump to navigation
Jump to search

For other uses of the word Succubus, see Succubus (disambiguation).
For other uses of the word Incubus, see Incubus (disambiguation).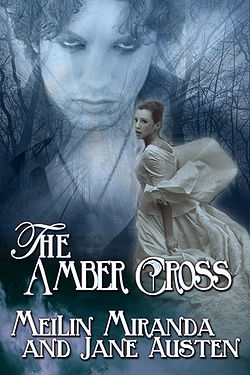 The Amber Cross is an eBook written by MeiLin Miranda. In this work two of the characters are a Succubi and an Incubus.
Details
Title: From the Bride of Samael
Author: MeiLin Miranda
Format: eBook Format
Publisher: Smashwords
Language: English
Length: 31 Pages
Release Date: April 5, 2012
Synopsis
Glamorous siblings Henry and Mary Crawford have captivated the Bertrams of Mansfield Park. Sisters Maria and Julia compete for Henry's attention. Their brother Edmund falls hard for Mary.
The one exception is the Bertrams' shy cousin, Fanny Price. Penniless, plain and raised to believe she has little worth, Fanny has long accepted that Edmund will never love her as she loves him. He will marry another--just let it not be a girl like Mary Crawford!
But when Fanny's seafaring brother gives her an ancient amber cross, the talisman reveals to her what kind of girl Mary Crawford really is. She and her brother are succubi, out to seduce the Bertrams and consume their life force--and Henry Crawford has decided Fanny is the most delicious of them all. Timid Fanny must find the strength to resist Henry's seductive powers if she is to save her own life and that of her beloved Edmund.
A paranormal erotica mashup of Jane Austen's "Mansfield Park," "The Amber Cross" originally appeared in the Circlet Press anthology "Sense and Sensuality."
Book Review
At the time of this article's entry in the SuccuWiki there was no book review available. Tera has this work on her reading list and will review it as soon as possible
External Links