Lust Eaters - Book 1: Mortal Born
Jump to navigation
Jump to search

For other uses of the word Succubus, see Succubus (disambiguation).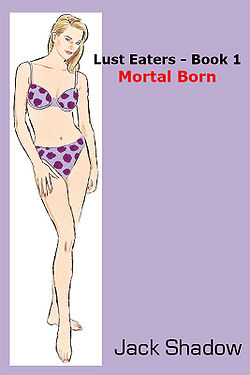 Lust Eaters - Book 1: Mortal Born is an eBook written by Jack Shadow. One of the main characters in this story, Anastasia, is a Succubus who traps a family in her clutches. The author in his comments notes that this work is the first in a series called Lust Eaters, a universe where Succubi and Incubi feed off the lust of mortal beings.
Overview
Title: Love's Nest
Author: Jack Shadow
Published By: Smash Words
Format: eBook
Publishing Date: June 1, 2011
Plot Summary
Appearances are deceiving. Thinking he is rescuing a girl in distress an accountant unwittingly brings home an ancient evil that enslaves his entire family. Anastasia has been walking the earth since the dawn of time feeding on the lust of men. Trent thought he was rescuing her, now his wife must rescue him and their son from clutches of a demon, but demons can only be destroyed by another demon. Book 1 of the Lust Eaters Series introduces readers to a hidden world where sex demons feed off the lust of mortals.
Book Review
At the time of this article's entry in the SuccuWiki, no review was available.
External Links