Twin Succubus
Jump to navigation
Jump to search
Twin Succubus




Twin Succubus Promotional Image

Developer(s)
Umemaro
Publisher(s)

Umemaro3D Inc.

Distributor(s)
Umemaro3D Inc.
Platform(s)

Windows XP

Release date(s)
2008
Genre(s)
Hentai
Media/Digital distribution
Downloadable
For other uses of the word Succubus, see Succubus (disambiguation).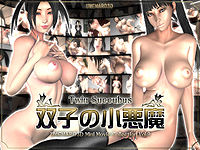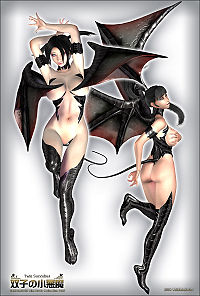 Twin Succubus is a PC video role playing game in the Hentai genre designed by the game author Umemaro and released under their company Umemaro3D Inc. The game was released in 2008 and consists of a series of rendered 3D movies connected by decision points in the game.
Game Information
Title: Twin Succubus
Author: Umemaro
Rating: R - Adult Language and Sexual Situations
Language: Japanese with English subtitles
Platform: Windows XP
Release Date: 2008
Description
The game is described as being about a private school called Yo-mei Gakuen. The principal and his followers take advantage of their position and use students in various ways to gain power. Playing time of the game was approximately one hour.
Succubi in this Game
A pair of Succubi, the title characters, only appear in the last scene of the game and for only a short period of time. As such, this is not actually a game about Succubi, and their role in the game is so minor as to be almost non-existent.
Release
The game was released as Umemaro 3D – Volume 9 with a subtitle of Twin Succubus. The playing time of the game is approximately one hour. The game was originally released in Japanese, but an English translation was made available soon after. The game can be found currently at various torrent sites on the Internet.
External Links