The Succubus on the Run (eBook)
Jump to navigation
Jump to search
For other uses of the word Succubus, see Succubus (disambiguation).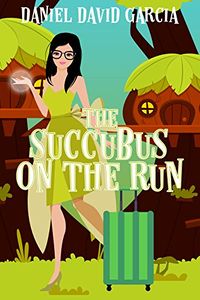 The Succubus on the Run is an eBook written by Daniel Garcia. It is the fourth work in the The Succubus in a Red Dress series by this author. In this work the main character Delilah is a Succubus.
Overview
Title: The Succubus on the Run
Author: Daniel Garcia
Published By: Amazon Digital Services
Length: 263 Pages
Format: eBook
ASIN: B01MS28VY0
Publishing Date: January 6, 2017
Other Works in this Series on SuccuWiki
Plot Summary
Life is a mess for the Succubus Queen of New York. Her romance with a demon hunter is over, her film career has hit the skids and her long-lost sister tried to steal her crown, which she doesn't even want anymore. So, what else can she do, but get out of town for a few days?
The answer is "anything else," when her mother shows up, chasing a child from the Elven Realm. Now Delilah has to help the young girl get home, and finds herself farther away from New York than she ever imagined.
In order to get back, she's going to need the help of her friends, and just might learn a lesson or two along the way about handing the responsibilities of a budding young monarch, as well as solving the mystery of her father, once and for all.
Book Review
At the time of this article's entry in the SuccuWiki, no review was available. Tera has this work on her reading list and will review it shortly.
External Links