The Succubus in a Red Dress Series: Books 1-4 (eBook)
Jump to navigation
Jump to search
The Succubus in a Red Dress Series: Books 1-4



The Succubus in a Red Dress Series: Books 1-4 eBook Cover, written by Daniel Garcia

Author(s)
Daniel Garcia
Series
The Succubus in a Red Dress
Publisher
Amazon Digital Services
Publication date
January 18, 2017
Media type
eBook
Length
1103 Pages
ASIN
B01MR7S13N
Preceded by
The Succubus on the Run
Followed by
The Pretend Succubus
For other uses of the word Succubus, see Succubus (disambiguation).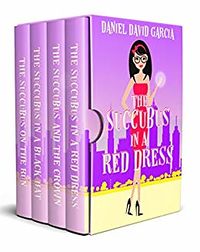 The Succubus in a Red Dress Series: Books 1-4 is an eBook written by Daniel Garcia. It is a collective of the first four works in the The Succubus in a Red Dress series by this author. In this work the main character Delilah is a Succubus.
Overview
Title: The Succubus in a Red Dress Series: Books 1-4
Author: Daniel Garcia
Published By: Amazon Digital Services
Length: 1103 Pages
Format: eBook
ASIN: B01MR7S13N
Publishing Date: January 18, 2017
Other Works in this Series on SuccuWiki
Plot Summary
She's not your ordinary, run-of-the-mill succubus!
This omnibus edition contains the first four books in the Succubus in a Red Dress series:
The Succubus in a Red Dress: Delilah is only a nerdy coffee clerk in New York City whose biggest problem is trying to find a job that will cover more than her rent, until the day one of her customers collapses after touching her. Now she has demon hunters and witches chasing after her, and is being tailed by a crazy blonde in a Ferrari who says she wants to be her mentor. Oh, and she just might be a succubus. Whatever you do, don't say it can't get any worse.
The Succubus and the Crown: Delilah thought having supernatural powers was tough ... but being the Succubus Queen of New York is an even bigger challenge! Now she must face werewolves, the Council, pixies and a Vampire King who's looking for a new queen, one who won't take no for an answer. But what might be even scarier is navigating her relationship with a certain, cute demon hunter, and figuring out if he is or isn't her boyfriend. Delilah's got to survive it all over the course of one crazy night, and it just might turn out that the only ones who can help her are a group of offbeat succubi who show up in the big city looking for refuge. Good luck and ... all hail the Queen!
The Succubus in a Black Hat: Things are finally going well for the Succubus Queen of New York; her love life with a demon hunter has reached the next level, a movie is actually being made from the script she wrote and her kingdom is vampire-free, and surprisingly lacking in paranormal mischief. But now, someone is killing members of the Council ... and her long-lost sister has shown up to paint the town red. Even worse, the only one who can help her save the day just might be her boyfriend's total witch of a mother, if they don't kill each other first. And when one of her friends gets separated from the rest of the group, she finds that she'll need to move Heaven and Hell to get home again. Even if Delilah survives her adventures this time, life may never be the same.
The Succubus on the Run: Life is a mess for the Succubus Queen of New York. Her romance with a demon hunter is over, her film career has hit the skids and her long-lost sister tried to steal her crown, which she doesn't even want anymore. So, what else can she do, but get out of town for a few days? The answer is "anything else," when her mother shows up, chasing a child from the Elven Realm. Now Delilah has to help the young girl get home, and finds herself farther away from New York than she ever imagined. In order to get back, she's going to need the help of her friends, and just might learn a lesson or two along the way about handing the responsibilities of a budding young monarch, as well as solving the mystery of her father, once and for all.
Join Delilah on her adventures. If you're a fan of light-hearted paranormal comedy, makeovers and mayhem, you're in for a wild ride!
Book Review
At the time of this article's entry in the SuccuWiki, no review was available. Tera has this work on her reading list and will review it shortly.
External Links