The Succubus in a Black Hat (eBook)
Jump to navigation
Jump to search
The Succubus in a Black Hat



The Succubus in a Black Hat eBook Cover, written by Daniel Garcia

Author(s)
Daniel Garcia
Series
The Succubus in a Red Dress
Publisher
Amazon Digital Services
Publication date
May 8, 2015
Media type
eBook
Length
464 Pages
ASIN
B00W11MB08
Preceded by
The Succubus and the Crown
Followed by
The Succubus on the Run
For other uses of the word Succubus, see Succubus (disambiguation).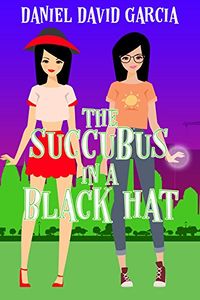 The Succubus in a Black Hat is an eBook written by Daniel Garcia. It is the third work in the The Succubus in a Red Dress series by this author. In this work the main character Delilah is a Succubus.
Overview
Title: The Succubus in a Black Hat
Author: Daniel Garcia
Published By: Amazon Digital Services
Length: 464 Pages
Format: eBook
ASIN: B00W11MB08
Publishing Date: May 8, 2015
Other Works in this Series on SuccuWiki
Plot Summary
Things are finally going well for the Succubus Queen of New York; her love life with a demon hunter has reached the next level, a movie is actually being made from the script she wrote and her kingdom is vampire-free, and surprisingly lacking in paranormal mischief. But now, someone is killing members of the Council ... and her long-lost sister has shown up to paint the town red. Even worse, the only one who can help her save the day just might be her boyfriend's total witch of a mother, if they don't kill each other first.
And when one of her friends gets separated from the group, she finds that she'll move Heaven and Hell to get home again.
Even if Delilah survives her adventures this time, life may never be the same.
Book Review
At the time of this article's entry in the SuccuWiki, no review was available. Tera has this work on her reading list and will review it shortly.
External Links