The Succubus Ritual (eBook)
Jump to navigation
Jump to search
The Succubus Ritual



The Succubus Ritual eBook Cover, written by Dalia Daudelin

Author(s)
Dalia Daudelin
Series
Demonic Dreams and Succubus Seductions
Publisher
Midnight Climax
Publication date
August 13, 2014
Media type
eBook
Length
24 Pages
ASIN
B00CQ91ZCU
Preceded by
The Demon's Slave
Followed by
Ritual Sacrifice
For other uses of the word Succubus, see Succubus (disambiguation).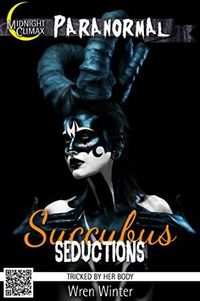 The Succubus Ritual is an eBook written by Dalia Daudelin. It is the third work in the Demonic Dreams and Succubus Seductions series by this author. In this work the character Meridiana is a Succubus. This work was reissued as Succubus Seductions and the author's name was changed to Wren Winter in 2015.
Overview
Title: The Succubus Ritual
Author: Dalia Daudelin
Published By: Midnight Climax
Length: 24 Pages
Format: eBook
ASIN: B00CQ91ZCU
Publishing Date: August 13, 2014
Other Works in this Series on SuccuWiki
Plot Summary
David wants a paranormal lover. Meridiana has something else in mind.
When the powerful succubus Meridiana is called to Lucifer's office, she's elated to find out people are summoning succubi again! Her first victim is a man named David.
David seems like a normal fellow, who enjoys video games and working out. It doesn't make sense that such a handsome man would need to call upon a succubus to get laid, until Meridiana overhears him talking on the phone. The conversation reveals that David called on her after a dare!
When she finds out the jade David will be using is a fake, her wicked mind whirs with ideas of how to torture David while still giving him sexual pleasure.
Book Review
At the time of this article's entry in the SuccuWiki, no review was available. Tera has this work on her reading list and will review it shortly.
External Links