The Pretend Succubus (eBook)
Jump to navigation
Jump to search
For other uses of the word Succubus, see Succubus (disambiguation).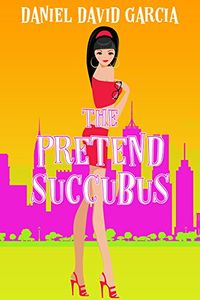 The Pretend Succubus is an eBook written by Daniel Garcia. It is the fifth work in the The Succubus in a Red Dress series by this author. In this work the main character Delilah is a Succubus.
Overview
Title: The Pretend Succubus
Author: Daniel Garcia
Published By: Amazon Digital Services
Length: 533v Pages
Format: eBook
ASIN: B074VXQL1L
Publishing Date: September 1, 2017
Other Works in this Series on SuccuWiki
Plot Summary
Shhh ... it's a secret!
With Delilah off in the Elven Realm, Devorah finally gets her chance to be the Succubus Queen of New York, if she can pull off an imitation of her sister. But, when the Council gives her a challenge and new paranormal threats appear in the city, she realizes the job may be more difficult than she imagined.
Even worse, the other succubi are less than thrilled over the idea of helping her, and Benito faces problems of his own, when the Arcane Academy decides to put his powers to the test.
Good luck and … all hail the queen!
Book Review
At the time of this article's entry in the SuccuWiki, no review was available. Tera has this work on her reading list and will review it shortly.
External Links