The Moon, The Madness, and The Magic
Jump to navigation
Jump to search
The Moon, The Madness, and The Magic

The Moon, The Madness, and The Magic Book Cover,
written by Eliza March
Author(s)
Eliza March
Publisher
Siren Publishing (Original)
WP Sevilla (Reissue)
The Wild Rose Press, Inc. (Second Reissue)
Publication date
December 29, 2010 (Original)
December 2, 2019 (Second Reissue)
Media type
Paperback
eBook
Length
204 Pages
ISBN
978-1610341783 (Paperback)
ASIN
B01CF5X7DO (eBook)
B081M7R9KZ (Second Reissue)
For other uses of the word Succubus, see Succubus (disambiguation).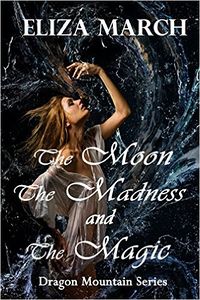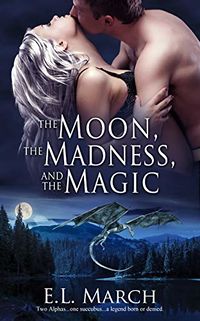 The Moon, The Madness, and The Magic is a novel written by Eliza March. It is the second, in later releases, third work in the Enchanted Mountain series by this author. In this work the character Celeste is a fae shifter who has same of the powers of a Succubus.
Overview
Title: The Moon, The Madness, and The Magic
Author: Eliza March
Published By: Siren Publishing (Original), WP Sevilla (Reissue), The Wild Rose Press, Inc. (Second Reissue)
Length: 204 Pages
Format: Paperback & eBook
ASIN: B01CF5X7DO (eBook), B081M7R9KZ (Second Reissue)
ISBN-10: 1610341783 (Paperback)
ISBN-13: 978-1610341783 (Paperback)
Publishing Date: December 29, 2010 (Original), December 2, 2019 (Second Reissue)
Plot Summary
Fate sealed Rourke and Dane's destiny thirty years ago. Now Celeste, a fae shifter, understands why she's irresistibly drawn to both the Werewolf and the Demon Dragon Shifter. Surely with her succubus nature, she'll be capable of seducing the two alpha men, but will she be able to convince them that sharing her to fulfill the Prophecy would be better than the alternative: chaos, destruction, or death? Why are the men's tastes--in everything from food to sex--changing? Maybe because one is the prince of the wolf pack, and the other is the leader of the Lore, a dreaded Demon Dragon shifter. They have one option--accept their destiny and complete the menage bond or die.
Book Review
At the time of this article's entry in the SuccuWiki, no review was available. Tera has this work on her reading list and will review it shortly.
External Links