The Demon and the Succubus: A Sisters of Darkness Novel
Jump to navigation
Jump to search
The Demon and the Succubus: A Sisters of Darkness Novel



The Demon and the Succubus: A Sisters of Darkness Novel Original Book Cover, written by Cassie Ryan

Author(s)
Cassie Ryan
Series
Sisters of Darkness
Publisher
Berkley (Original)
Tina Gerow (Reissue)
Publication date
April 5, 2011 (Original)
September 12, 2019 (Reissue)
Media type
Paperback
eBook
Length
304 Pages
ISBN
978-0425239063 (Original)
ASIN
B004ELA5B0 (Original)
B07XVLB464 (Reissue)
Preceded by
Seducing the Succubus: A Sisters of Darkness Novel
For other uses of the word Succubus, see Succubus (disambiguation).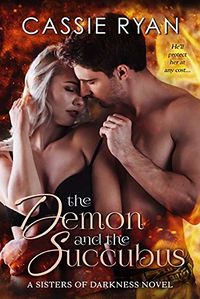 The Demon and the Succubus: A Sisters of Darkness Novel, is an novel written by Cassie Ryan. It is the second novel in the Sisters of Darkness series. She has released other novels with Succubi in them under the pen name Tina Gerow, which can be found on SuccuWiki elsewhere.
Overview
Title: The Demon and the Succubus: A Sisters of Darkness Novel
Author: Cassie Ryan
Published By: Berkley (Original), Tina Gerow (Reissue)
Length: 304 Pages
Format: Paperback & eBook
ASIN: B004ELA5B0 (Original), B07XVLB464 (Reissue)
ISBN-10: 0425239063 (Original)
ISBN-13: 978-0425239063 (Original)
Publishing Date: April 5, 2011 (Original), September 12, 2019 (Reissue)
Other Works in this Series on SuccuWiki
Plot Summary
Amalya has spent the centuries using her succubus skills to become one of the most sought-after escorts at a high class brothel. Seducing and corrupting men to make her quota with her queen, Lilith, has left Amalya jaded about sex-until a devastatingly handsome new client triggers her most forbidden desires and delivers an enticing surprise.
Levi Spencer, Duke of Ashford, has been offered a deal he can't refuse in exchange for safely slipping Amalya back into Lilith's lair. But a demon with a vendetta is plotting something far more sinister than Amalya's death. And if Levi and Amalya can't stop him, it will mean the end of the world.
Book Review
No reviews were available at the time of this article's creation in SuccuWiki. Tera has this work on her reading list and will review it as soon as possible
The following review is from the Amazon.com link in the External Links below:
5 out of 5 stars
Exciting erotic romantic fantasy
Reviewed On: April 7, 2011
Reviewed By: Harriet Klausner

Amalya the succubus works successfully as an escort at the Sinners Redemption brothel in Nevada. Her job enables Amalya to feed and provide pleasure while, like her three sisters, pay off her debt to Queen Lilith.
Semiazas the demon escapes with one thought on his mind: revenge against the four Succubi. Queen Lilith hires Duke Levi Spencer to protect Amalya from the enraged demon who dispatched two of his vicious bounty demons, Pestilence and famine, to attack her. Levi knows he is part demon on his mother's side, but wonders if his paternal roots are angel or human. He accepted Lilith's deal to protect Amalya in exchange for the Queen providing him information re his sire. However, an instant attraction stuns both of them even as they begin to realize Semiazas has a bigger scheme than attacking the succubae; a scheme to destroy humanity.
The second Sisters of Darkness erotic romantic fantasy is an exciting tale due to the romantic subplot taking a backseat to the danger lurking throughout the Ryan universe of heaven, hell and points in between; just like in Jezebeth's tale, Seducing the Succubus. The lead couple is a solid pairing while strong support characters like Jethro add depth to the perils confronting Amalya and Levi. Readers will relish Amalya's adventures as the demons keep on attacking.
External Links