The Demon Within (eBook)
Jump to navigation
Jump to search
The Demon Within

The Demon Within eBook Cover,
written by Dani Matthews
Author(s)
Dani Matthews
Series
Cherry Creek
Publisher
Dani Matthews
Publication date
March 3, 2015
Media type
eBook
Length
274 Pages
ASIN
B00U872IDC
Preceded by
Cherry Creek
Followed by
Masquerade
For other uses of the word Succubus, see Succubus (disambiguation).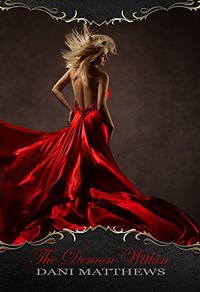 The Demon Within is an eBook written by Dani Matthews. It is the second work in the Cherry Creek series by this author. In this work one of the main characters is a Succubus.
Overview
Title: The Demon Within
Author: Dani Matthews
Published By: Dani Matthews
Length: 274 Pages
Format: eBook
ASIN: B00U872IDC
Publishing Date: March 3, 2015
Other Works in this Series on SuccuWiki
Plot Summary
My name is Livvy Vauss, and my life is anything but ordinary. I just barely managed to survive the past summer after being nearly murdered twice. If you ask me, that is more than enough drama to last a lifetime. Now that all the secrets are out and in the open, and I know who the Deveroux's are, all I want to do is concentrate on my new school and surviving my senior year.
Unfortunately, I'm learning that when you're a part of the Deveroux family, trouble follows you wherever you go. My friend, Tatum, turns out to have been right all along, and most of the students at the high school dislike me for being…well, me. If that's not enough, I have a hot wolf-shifter pursuing me while his possessive betrothed wants me dead.
Then there's my nightmares. They are horrific and filled with murder, they haunt me while I sleep, and I can't seem to stop them. These dreams terrify me to the very depths of my soul. When I'm not caught up in tormenting nightmares, I am dreaming of him. He's bad news, I know that. He's a killer. There is no doubt in my mind that when he stalks the darkened alleys, he's looking for prey. It's in the way he moves, and in the way he watches the shadows in the darkness of the night. Who is he? Why do I keep dreaming of him? Why do I feel so drawn to him?
I'm beginning to wonder if I'm going to live long enough to see my eighteenth birthday. It's three weeks away, but with everything that's happening, am I going to survive that long?
Book Review
At the time of this article's entry in the SuccuWiki, no review was available. Tera has this work on her reading list and will review it shortly.
External Links