The Book of Bart (eBook)
Jump to navigation
Jump to search
The Book of Bart

The Book of Bart Original Book Cover,
written by Ryan Hill
Author(s)
Ryan Hill
Publisher
Curiosity Quills Press (Original)
Ryan Hill (Reissue)
Publication date
May 20, 2014
Media type
eBook
Paperback
Length
272 Pages
ISBN
978-1620075470 (Paperback)
ASIN
B01N7N1EQC (eBook)
For other uses of the word Succubus, see Succubus (disambiguation).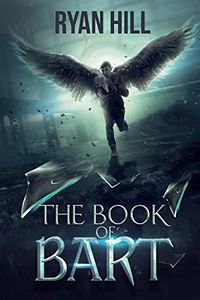 The Book of Bart is a novel written by Ryan Hill. In this work one of the characters is a Succubus.
Overview
Title: The Book of Bart
Author: Ryan Hill
Published By: Curiosity Quills Press (Original), Ryan Hill (Reissue)
Length: 272 Pages
Format: eBook & Paperback
ASIN: B01N7N1EQC (eBook)
ISBN-10: 1620075474 (Paperback)
ISBN-13: 978-1620075470 (Paperback)
Publishing Date: May 20, 2014
Plot Summary
Working for the man upstairs stinks, but working with Samantha, an angel in training? Offensive!
Only one thing is so powerful, so dangerous that Heaven and Hell must work together to find it: the Shard of Gabriel.
With a mysterious Black Cloud of Death hot on the shard's trail, a desperate Heaven enlists the help of Bartholomew, a demon who knows more about the shard than almost anyone. Six years ago, he had it in his hands. If only he'd used it before his coup to overthrow the Devil failed. Now, he's been sprung from his eternal punishment to help Samantha, an angel in training, recover the shard before the Black Cloud of Death finds it.
If Bart wants to succeed, he'll have to fight the temptation to betray Samantha and the allure of the shard. After an existence full of evil, the only way Bart can get right with Hell is to be good.
Book Review
At the time of this article's entry in the SuccuWiki, no review was available. Tera has this work on her reading list and will review it shortly.
External Links