Succumbing to the Succubus (eBook)
Jump to navigation
Jump to search
Succumbing to the Succubus

Succumbing to the Succubus
Original eBook Cover,
written by Grace Morgan
Author(s)
Grace Morgan
Janet Graceland (Reissue)
Publisher
Amazon Digital Services
Publication date
February 29, 2020 (Original)
December 3, 2020 (Reissue)
Media type
eBook
Length
17 Pages
ASIN
B085BDH47S (Original)
B08PPJ26D5 (Reissue)
For other uses of the word Succubus, see Succubus (disambiguation).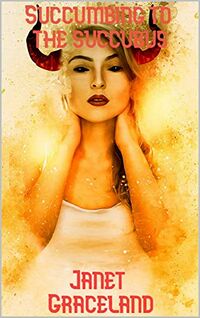 Succumbing to the Succubus is an eBook written by Grace Morgan and reissued under the author name Janet Graceland. In this work the character Skyler is transformed into being a Succubus.
Overview
Title: Succumbing to the Succubus
Author: Grace Morgan (Reissued as Janet Graceland)
Published By: Amazon Digital Services
Length: 17 Pages
Format: eBook
ASIN: B085BDH47S (Original), B08PPJ26D5 (Reissue)
Publishing Date: February 29, 2020 (Original), December 3, 2020 (Reissue)
Plot Summary
When Skyler's curiosity gets the better of him to discover what job his girlfriend, Sarah, has at a nightclub, he doesn't expect to find himself surrounded by supernatural creatures. What happens next is the unthinkable: the woman in charge of the club offers to transform him into a succubus. With the changes that take place to his body, Skyler discovers new passions that he could never before have imagined.
And when the queen of the paranormal world steps in believing Skyler to be her mate? Well, things just became a whole lot more complicated.
Book Review
At the time of this article's entry in the SuccuWiki, no review was available. Tera has this work on her reading list and will review it shortly.
External Links