Succumbing to the Succubus (eBook)
Jump to navigation
Jump to search
Succumbing to the Succubus

Succumbing to the Succubus
Original eBook Cover,
written by Grace Morgan
Author(s)
Grace Morgan
Janet Graceland (Reissue)
Publisher
Amazon Digital Services
Publication date
February 29, 2020 (Original)
December 3, 2020 (Reissue)
Media type
eBook
Length
17 Pages
ASIN
B085BDH47S (Original)
B08PPJ26D5 (Reissue)
For other uses of the word Succubus, see Succubus (disambiguation).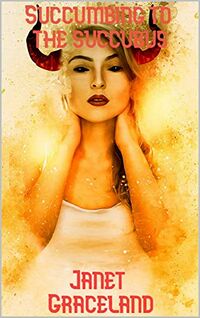 Succumbing to the Succubus is an eBook written by Grace Morgan and reissued under the author name Janet Graceland. In this work the character Skyler is transformed into being a Succubus.
Overview
Title: Succumbing to the Succubus
Author: Grace Morgan (Reissued as Janet Graceland)
Published By: Amazon Digital Services
Length: 17 Pages
Format: eBook
ASIN: B085BDH47S (Original), B08PPJ26D5 (Reissue)
Publishing Date: February 29, 2020 (Original), December 3, 2020 (Reissue)
Plot Summary
When Skyler's curiosity gets the better of him to discover what job his girlfriend, Sarah, has at a nightclub, he doesn't expect to find himself surrounded by supernatural creatures. What happens next is the unthinkable: the woman in charge of the club offers to transform him into a succubus. With the changes that take place to his body, Skyler discovers new passions that he could never before have imagined.
And when the queen of the paranormal world steps in believing Skyler to be her mate? Well, things just became a whole lot more complicated.
Book Review
The following review was originally published by Tera on her Blog, A Succubi's Tale on December 4, 2020

Skylar can't figure out what his roommate Brianna is hiding. Curiosity demands that he sneak into where she works and see what's going on. But the truth that awaits him leads to another world and another life and perhaps something he needed himself.
The story is mainly a transformation work with gender and succubus themes. It's a bit uneven at times, the main character Skylar losing themselves along the way and being very unsure of what they become to a point. The hesitation, the exploration of themselves and what they become are interesting. The succubi in the story, both Skyler and Brianna, have some lovely relationship moments and that part of the story felt right.
It's when the story turns on its head, and goes off in another direction that I found myself wondering if that was really needed. While I can see the reason behind the shift in story in the latter half, I felt like there was too much story left to the side that could have developed the characters further.
The transformation scenes are interesting, the erotica is a bit muted in the heat overall however. It's a bit over the top much of the time and at some points didn't really do a lot to carry that story onwards. Again, the problem I think is there's more character development needed, more story to tell, and it just gets lost in the telling.
Three out of five pitchforks.
The story is far more interesting than the transformation or erotica overall. It needs more depth at times, perhaps a bit more telling of how things come together than what is. That said, the characters are interesting, the story gets somewhere and perhaps that's the best thing of all.
External Links