Succubus Summoned (eBook)
Jump to navigation
Jump to search
Succubus Summoned



Succubus Summoned eBook Cover, written by Emerald Ice

Author(s)
Emerald Ice
Publisher
Amazon Digital Services
Publication date
December 23, 2012
Media type
eBook
Length
25 Pages
ASIN
B00ASF630I
For other uses of the word Succubus, see Succubus (disambiguation).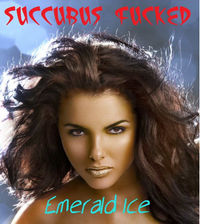 Succubus Summoned is an eBook written by Emerald Ice. Shortly after this work's release, the author reissued this work as Succubus Fucked. This work is billed as the first in the Volkov Brothers series by this author. In this work, the main character Xevra Rush is described as being a Succubus.
Overview
Title: Succubus Summoned (Retitled as: Succubus Fucked)
Author: Emerald Ice
Published By: Amazon Digital Services
Length: 25 Pages
ASIN: B00ASF630I
Publishing Date: December 23, 2012
Plot Summary
Xevra Rush has a fetish; a cock fetish, to be precise. Word of her need to feed her obsession attracts the attention of a powerful man who summons her to him. Not about to obey a directive from some nobody, Xevra ignores his demand, but unknowingly plays right into his hands when she interviews for a position at the very company he owns. Who, or, more importantly, what is this alpha male and what will he do to Xevra when she shows up on his front door?
Book Review
At the time of this article's entry in the SuccuWiki, no review was available. Tera has purchased this work and will review it shortly.
External Links