Succubus Obsession (eBook)
Jump to navigation
Jump to search
Succubus Obsession

Succubus Obsession Original eBook Cover,
written by Simone Bern
Author(s)
Simone Bern
Publisher
Ellora's Cave Publishing (Original)
Amazon Digital Services (Reissue)
Publication date
November 9, 2011 (Original)
December 28, 2016 (Reissue)
Media type
eBook
Length
73 Pages
ISBN
9781419936456 (Original)
ASIN
B00666KXTA (Original)
B01MU58ZVU (Reissue)
For other uses of the word Succubus, see Succubus (disambiguation).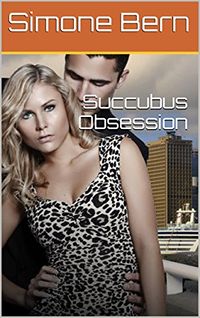 Succubus Obsession is an eBook written by Simone Bern. In this work the character Celine is a Succubus.
Overview
Title: Succubus Obsession
Author: Simone Bern
Published By: Ellora's Cave Publishing (Original), Amazon Digital Services (Reissue)
Length: 73 Pages
Format: eBook
ASIN: B00666KXTA (Original), B01MU58ZVU (Reissue)
IBSN: 9781419936456 (Original)
Publishing Date: November 9, 2011 (Original), December 28, 2016 (Reissue)
Plot Summary
Celine is a succubus—a demon who gives her lovers pleasure so intense it leads to their obsession, even death. What she can do to a man frightens even her.
Erin has been moving from woman to woman for a very long time. He meets his match in Celine, a woman who hides secrets both dark and delicious behind an angel's face. But then, he has secrets of his own.
Maybe obsession isn't such a bad thing…
Book Review
The following review was originally published by Tera on her Blog, A Succubi's Tale on April 21, 2017

Celine has found her way to Vancouver, her past driving her onwards and lurking in the shadows. But the universe has a way of drawing the best, and the worst out of her when she encounters Erin, a man she Celine can't get out of her thoughts. As a succubus, that's what she does to men, not the other way around, but everyone has a secret and this one might be impossible for Celine to accept.
I really enjoyed the story as a whole, how Celine's needs, her reality and what being a succubus means. The emotional impact of her life, her past, what's happened to her family and what she sees as her future are very telling throughout. The main thing is that none of these things that make up who Celine is are forgotten about. They matter, they push her to act and react over Erin's own actions. While there is a lot told about Celine herself, the succubus aspects of her life, outside of some fleeting scenes, are a little muted and I would have liked to know more about them. As a whole, the story isn't so much about Celine being a succubus, but rather she trying to overcome the reality that has been ingrained into her. That fight is a telling one and it doesn't vanish.
Erin is a cypher through much of the story, even if there are some hints that there's something different about him. The discovery of what that is, what it means to himself and to Celine was perfect in every way and made complete sense. While Celine's character changes as the story progresses, there's a real battle within Erin for him to grow, to be more than what he appears to be at the beginning. He's a bit too "involved" with himself, but when push comes to shove, he's man enough to say what matters and not hide behind falsehoods, which was refreshing.
The work is a romance first and as such the erotica is scattered throughout. Some of the scenes have wonderful heat, others are touching and I thought that the more "forceful" moments didn't have the same impact as the more quiet ones. The raw sexuality between Celine and Erin has heat, but there's more in the seduction, the entwining and the opening of their souls to each other which I loved far more.
There are a few minor editing flaws, nothing that took me out of the story, a couple of plot threads that started and then were forgotten, which was a shame I thought overall. The question of Celine's mother tugs at me, the thread of the stalker who was after Celine I think could have been more present than it was for the sake of adding tension. There's also a point at which Celine explains how difficult it is for succubi to exist, why things happen as they do. Going into that aspect of the story would have brought more to her as a character I thought.
A delightful romance nonetheless, which I enjoyed fully. Perhaps more time spent in telling why Celine was the person she was would have been nice. At the same time, seeing Erin being less of an ass at times and more the person he was in the last scenes of the work would have been a joy. But in spite of the wishes and wants, a work that I loved.
Four out of five pitchforks.
I loved Celine dearly, and the story was captivating throughout. There are a few plot threads left unfinished, a few small editing corrections needed, but those are minor things as a whole. I've love to see what comes next, there are some quite pointed directions the story could go in, one of which is very dear to me. Perhaps now that this work has reappeared the author might think about writing a sequel, to tell the rest of the story.
I think that would be nice to see…
External Links