Succubus Adult (2001)
Jump to navigation
Jump to search
Succubus



Succubus Adult Movie DVD Cover

Directed by
James DiGiorgio
Produced by
Rob Spallone
Written by
James DiGiorgio
Starring
Dino Bravo
TJ Cummings
Wanda Curtis
Bridgette Kerkove
Julie Meadows
Studio
VCA
Distributed by
VCA
Release

date(s)

April 29, 2002
Running time
117 Minutes
Country
USA
Language
English
For other uses of the word Succubus, see Succubus (disambiguation).

Succubus was a 2001 produced, 2002 released, direct to video adult movie starring Dino Bravo, TJ Cummings, Wanda Curtis, Bridgette Kerkove and Julie Meadows. A couple accidentally injures a woman in a car accident, they take her home to make sure that this strangely beautiful woman is as unharmed as she seems but discover that she is, in fact, the succubus known as Lilith.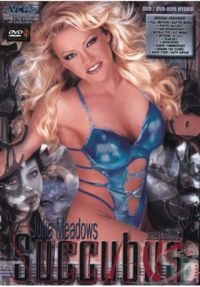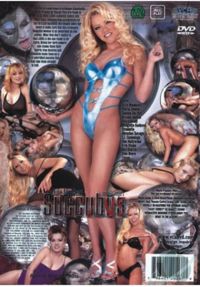 Overview
Title: Succubus
MPAA Rating: XXX - Sexual Content and Language
Director: James DiGiorgio
Writer: James DiGiorgio
Studio: VCA
Runtime: 117 Minutes
Release Date: April 29, 2002
Genre: Straight, Feature, Plot Based
Plot Outline: Passion will take you to hell.
Cast
Actor / Actress
Dino Bravo
T.J. Commings
Wanda Curtis
Salena Del Ray
Nikita Denise
Guy DiSilva (as Guy DaSilva)
Dynamite
Don Hollywood
Brooke Hunter
Bridgette Kerkove
Julie Meadows
Herschel Savage
Kyle Stone
Trevor
Jewel Valmont (as Ava Vincent)
Plot Summary
Carl and Terry's marriage is in danger. Constantly at odds, it looks as though they are ready to give up. Until Lilith suddenly comes into their lives. Thinking they accidentally hit her in a car accident, the couple takes her home to make sure that this strangely beautiful woman is as unharmed as she seems. What they don't realize is that Lilith is the one ready to do harm. Using her dark powers she shows them their hearts true desires and ultimately leads them on a path of unbridled passion that just may take them straight to hell.
Awards
Year
Award
Result
2002
AVN Awards
Best Group Sex Scene - Video
Jewel Valmont, Bridgette Kerkove, Nikita Denise, Herschel Savage and Trevor
Won
2002
AVN Awards
Best Supporting Actress - Video
Ava Vincent
Won
Critical Review
The following review was taken from the site Adult DVD Talk.
Reviewed By: astroknight
Rating: 4/5

Julie Meadows sees things. Not dead people, but things that nobody else, such as her husband Herschel Savage, normally sees. While arguing about it on the way home from a party, Herschel hits somebody with their car, but they can't find the body anywhere. They get back in the car and both see Ava Vincent in the road in front of them. Ava asks for their help and to take her home with them. She stays with them for a little bit, and almost immediately Julie and Herschel find themselves being drawn into their sexual desires as well as situations darker than their normal lives.
After bringing Ava Vincent home with them, Herschel Savage and Julie Meadows relieve some of the stress in one of the most time honored ways, especially in porn. Herschel strips Julie, one of the most enjoyable and enthusiastic blondes in porn to watch, out of her black bra and panties before licking and fingering her twat. Julie returns the favor by sucking Herschel's cock, and uses almost no hand action while working him over. She makes both Herschel and the cameraman happy by starting out with a little reverse camera before laying on her side and letting Herschel spoon her. Finally, Julie lets Herschel fuck her from behind before unloading on her great ass. It's a pretty hot scene that has nice chemistry. As usual, Julie shows some nice enthusiasm, and squeals like no other girl in porn. She also looks extremely cute here, and might even be getting better looking as time goes by.
After checking out Ava Vincent, Herschel goes to leave but finds that she's suddenly naked and by the door. She lures him back to the bed where he eats her pussy before she sucks his cock and gives him extremely great eyes. Ava saves a horse by fucking Herschel cowgirl style, and then lays back for him to take her in a standing missionary. They finish it off with a nice pop on Ava's all natural, all American tits. It's a hot scene that's helped out quite a bit by Ava and the nasty, almost evil look that so often fills her great eyes.
Julie explores her yearnings for being with another man with Dino Bravo, who looks a little like Joe Bob Briggs. Julie starts out rubbernecking Dino's cock, and as usual looks like she's really enjoying herself. Julie hops up on the counter to let Dino tongue her pussy and asshole. He comes up to fuck her, and has a smile on his face that makes it look like Dino normally runs jokes through his head to not cum rather than baseball stats. Julie also lets Dino fuck her from behind. As Dino fucks her, he changes to reveal that he's really Ava Vincent. Julie gives a few scared looks now and then, making it look like she might realize what's going on. Finally, a stunt dick puts a nice load on Julie's great ass.
When going through a dark alley, Brooke Hunter, Herschel Savage, a show with bums Kyle Stone and Don Hollywood, who's a combination of Randy "Leatherface" West's apparent age and Ed "Ewwwww" Powers' looks. Brooke's a slightly above average looking blonde with a very nice and fairly realistic body, decides to give her boss. She attacks Kyle's cock as Don attacks her asshole with his tongue. She bends and lays over a barrel for the guys to take turns fucking her bald pussy. After a while, the bums realize that the nearby mattress hasn't been puked or pissed on too much, so Don lays back and lets Brooke ride him before Kyle pulls into her ass to completely fill her up. Brooke really gets into it and gets really vocal as she takes both guys, and eventually takes Kyle's pop on her nice tits. Don, however, doesn't let go with a pop and was probably happy enough to just be able to get a hard-on at his age.
Julie Meadows goes after what she wants, which just happens to be Guy DiSilva when he and his wife, Salena del Ray, comes over for dinner. She crawls across the table like a cat as Herschel watches from across the table unable to stop her and Salena gets turned on watching. Julie raises her legs high in the air so Guy can lick her holes, and then invites Salena up on the table to join in on the action. The girls repay Guy by teaming up to suck his cock before Julie hops up on Guy's cock as Salena watches and masturbates. Guy finishes himself off with Salena in a couple positions before Julie jerks him off on Salena's ass. It's another hot scene that has some very nice chemistry.
Dynamite, who has one of the stupidest names in porn, pleasures herself with her dildo while her husband is gone until she gets a visit from T. J. Cummings, her neighbor down the street. Thankfully Dynamite looks a lot better than one would expect from her name, and has a nice body including all natural tits. T. J. almost immediately replaces Dynamite's toy, and goes down on Dynamite's bald beaver. She returns the favor by giving him some nice slow head while he spanks her ass as well as stroking it a little for him. Dynamite turns around for T. J. to mount her from behind, but soon rolls over so her nicely natural tits can jiggle before taking it in her ass. They finish it up with T. J. giving Dynamite an average pop on her tits. It's a fairly short and very average scene.
Finally, Herschel learns Ava's secret. Ava takes him to Hell and introduces him to her pets Bridgette Kerkove, Nikita Denise, and Trevor, who almost immediately start pleasuring Ava. Bridgette breaks off of Ava to tempt Herschel into pleasure, as Nikita licks Ava's pussy while having Trevor lick hers. Nikita also turns around to give Trevor a little pleasure while Ava licks her pussy, and then lets Trevor fuck hers. Herschel, meanwhile, does Bridgette Kerkove in each of her holes. Finally, both Nikita and Bridgette take their partner's pops on their tits. It's a borderline hot scene that has okay chemistry.
Succubus feels like Michael Raven decided to tone down one of his more recent features and make it much more receptive for anybody who wants to box the clown while watching some porn. It has some of the same dark eeriness, yet it takes a turn down the road of stranger supernatural situations and sex rather than the one that shows things like women having miscarriages. The plot is helped out quite a bit by the acting chops of Julie Meadows, who does a great job of playing the fun loving but repressed housewife, Herschel Savage as the highly flawed husband who's zipper wants to fly apart, and Ava Vincent, as the evil succubus who instigates many of their situations. The sex is done just as well, and nicely travels between warm fuzzy couples sex with Herschel and Julie in the bedroom to dark, raw, back alley sex with Brooke Hunter and a pair of bums in the alley. If you like some nice supernatural darkness with your porn, make sure to check out Succubus.
Bios are included for Julie Meadows, Ava Vincent, Bridgette Kerkove, and Brooke Hunter. Each bio includes a link to the star's scene, other VCA credits, and a littler personal information. They're nicely done, but unfortunately share some of the stale sameness that's ruined VCA's main menus. The photo gallery lasts almost two and a half minutes with seven seconds per photo. Each photo is full screen and looks extremely good. Trailers are included for all three Sopornos movies, which are also by James DiGiorgio, New Wave Hookers 6, Being with Julie Ashton, and the amazing The Devil in Miss Jones 6. There's also a virtual tour, internet information, and contact information.
The behind the scenes featurette lasts 26 minutes, with camera work by Britt Morgan, who laughs quite a bit while filming as well as adding a comment here and there, and Jimmy D. There's some amusing footage with James giving Herschel crap about getting married as well as a nice deconstruction of the poop shot. Ava Vincent also gives a few tips on things you can notice in adult films. There's also some nice footage that focuses on both the scenes and the photos being shot. There's even some footage of Ava getting her makeup put on for the final scene. It's a nicely done behind the scenes that does a good job of feeling like it captures what's going on all around the set. The main complaint I have about it is that the stars are never identified, which is a great touch for any fans who aren't familiar with some of the stars.
Finally, there's a full length commentary with director James DiGiorgio and producer Rob Spallone. James and Rob play extremely well of each other, both sounding very Italian, with Rob playing the idiot and James playing the genius. There's quite a bit of humor through the entire commentary, and the guys seem to be fairly honest about the talent. There's even a surprising mount of darker humor. There aren't many commentaries when you hear the people wondering if the girls can feel the guys in them after being in the business a while. They're just as up front about the guys, and even talk about bringing in stunt dicks. They also talk about some of the technical aspects, such as the lighting, music, and the camera angles. Although the commentary has a lot of the same type of information most other commentaries have, James and Rob's style sets it apart very nicely, as well as they're not seeming to be afraid of talking about most anything.
External Links