Succubus - The Hunger (eBook)
Jump to navigation
Jump to search
Succubus - The Hunger



Succubus - The Hunger Original eBook Cover, written by Alice May Ball

Author(s)
Alice May Ball
Publisher
TzR Publishing
Publication date
December 9, 2013
Media type
eBook
Length
17 Pages
ASIN
B00H83KQUQ
For other uses of the word Succubus, see Succubus (disambiguation).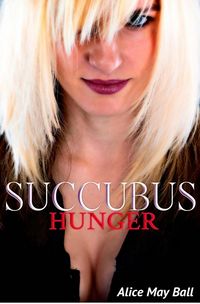 Succubus - The Hunger is an eBook written by Alice May Ball. In this work one of the main characters is a Succubus.
Overview
Title: Succubus - The Hunger
Author: Alice May Ball
Published By: TzR Publishing
Length: 17 Pages
Format: eBook
ASIN: B00H83KQUQ
Publishing Date: December 9, 2013
Plot Summary
Dark haired with a penetrating gaze in his deep, dark brown eyes, Morgan is a fine, hot-blooded male. His keen intellect and burning passions, though, have done nothing to prepared him for the unholy lust of a surprise night visitor. How far will her inhuman passions push him? Can he endure what she will propose?
Book Review
This review was originally published on Tera's Blog, A Succubi's Tale on November 25, 2014

A Succubus, who is never named, goes hunting and finds Morgan in a club. She knows that he sees her, tail and all, and is intrigued by him. So few can see Succubi around them, know them and, more importantly, be attracted by them. She then visits Morgan later in the evening and choices are made by both of them.
The Succubus is, very much, a tempting seductive being who knows what she wants and who she wants. From the first moment she is in control of the situation, takes Morgan and firmly controls what happens in the story. Having a tail is, for me, just the icing on the cake of her personality and it is nice to see that tail mentioned and used in some interesting ways.
Morgan's character is a submissive one, but that has to be drawn out and directed by the Succubus and she does so in a way that tells of her ability to seduce him. She does not hurt him or make him do something that he doesn't want to do. She knows his wants and desires and plays upon them towards an end.
When the moment comes at the end of the work where she asks of Morgan a question and what his acceptance of that question means, it reveals Morgan's need and her own desires as well. That I thought was well done and the work ends on a fitting note. But it ends a bit too soon I thought. I really would have liked to have seen a part two of this story as the path was there to continue onwards.
Very hot writing with two well told characters. A few minor spelling mistakes to be found in the story. But, as always, the story is short and ends at a question which is left unanswered and I would have liked to know where it would have gone from there.
Four out of five pitchforks.
Seductive, tempting, and deliciously erotic. A lovely description of a Succubus on the hunt and finding one to be claimed… but leaves the reader just when the story turns the corner.
External Links