Succubus (Short Story)
Jump to navigation
Jump to search
Succubus



Succubus eBook Reissue Cover, written by Sal Aceous

Author(s)
Sal Aceous
Publisher
Smashwords
Amazon Digital Services
Publication date
2009
November 6, 2011 (Reissue)
Media type
eBook
Length
11 Pages
ASIN
B00646CDKY
For other uses of the word Succubus, see Succubus (disambiguation).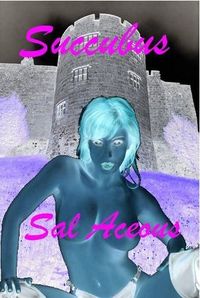 Succubus is an eBook written by Sal Aceous. In this work one of the main characters is a Succubus.
Overview
Title: Succubus
Author: Sal Aceous
Published By: Smashwords & Amazon Digital Services
Length: 11 Pages
Format: eBook
ASIN: B002OHD23O
ASIN: B00646CDKY (Reissue)
Publishing Date: 2009, November 6, 2011 (Reissue)
Plot Summary
When a dark angel meets a wolf boy under a full moon, things are bound to get dirty, sexy, and bloody.
Reissue summary: A werewolf encounters a succubus intent on possessing his very soul. But she wants his body first.
Book Review
The following review was originally published by Tera on her Blog, A Succubi's Tale on November 21, 2014

The meeting of a Succubus and a Werewolf takes many turns in this story. While the tale is interesting, there are a few points in it that bother me. First among those is whether or not the Succubus and the Werewolf actually have met before or not. This is somewhat unclear in the story and is confusing at certain points.
The story is a rather violent one, though the characters themselves enjoy things more when they are a bit on the rough and dangerous side. Personally I don't enjoy violent works, there really isn't anything in those kinds of stories for me, but the story, if a good one, can overcome that.
The Succubus, who is never named, is, as she should be, using her powers of seduction and attraction to control the one she wants, the werewolf. But in doing so there is a good deal of BDSM in the story, and a touch of blood and pain, which you would expect in a tale like this. In return the werewolf is, as you would expect, violent and animalistic at times.
Overall the story is told well, but I found it a little difficult to get past the violent aspects and into the erotica. Beyond that the characters are well written, the author tells a compelling story and it was, in its own way, an interesting read. I would have liked something of a longer story however in that there was parts of the past of both characters that wasn't told and confused me.
Three out of five pitchforks.
Overall well written, a little too violent for my own preferences, and I would have liked a bit more story.
External Links