Succubus: A Novel of Erotic Possession
Jump to navigation
Jump to search
Succubus: A Novel of Erotic Possession

Succubus: A Novel of Erotic Possession Original Book Cover, written by Irving A. Greenfield under the pseudonym of
Campo Verde
Author(s)
Irving A. Greenfield
Publisher
Polus Books (eBook)
Dell (Paperback)
Publication date
1970
Media type
eBook
Paperback
Length
200 Pages
ASIN
B00AL1MFXS (eBook)
For other uses of the word Succubus, see Succubus (disambiguation).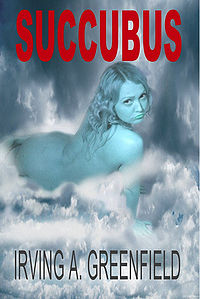 Succubus: A Novel of Erotic Possession is a novel written by Irving A. Greenfield. In this work one of the characters is possessed by a Succubus.
Overview
Title: Succubus: A Novel of Erotic Possession
Author: Irving A. Greenfield
Published By: Polus Books (eBook), Dell (Paperback)
Length: 200 Pages
Format: eBook & Paperback
ASIN: B00AL1MFXS (eBook)
Publishing Date: 1970
Plot Summary
In the storied world of the ancients, the sex-mad seductive woman-beast called succubus is a wicked and dangerous thing. When an ambitious archeologist discovers that his wife leads a double life haunting dreams and cavorting with strangers, he wants the sex and wants it all. But her powers are still growing.
Book Review
At the time of this article's entry in the SuccuWiki, no review was available. Tera has this work on her reading list and will review it shortly.
External Links