Soul Rebel (eBook)
Jump to navigation
Jump to search
Soul Rebel

Soul Rebel Revised eBook Cover,
written by C.J. Pinard
Author(s)
C.J. Pinard
Series
Rebel Riders
Publisher
Amazon Digital Services
Smashwords
Publication date
April 17, 2014
Media type
eBook
Length
165 Pages
ISBN
9781310373947
ASIN
B00JROS8I6
Followed by
Soul Redemption
For other uses of the word Succubus, see Succubus (disambiguation).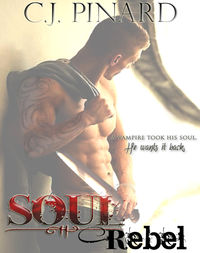 Soul Rebel is an eBook written by C.J. Pinard. It is the first work in the Rebel Riders series by this author. In this work the characters Eva and Charity are Succubi.
Overview
Title: Soul Rebel
Author: C.J. Pinard
Published By: Amazon Digital Services & Smashwords
Length: 165 Pages
Format: eBook
ASIN: B00JROS8I6
IBSN: 9781310373947
Publishing Date: April 17, 2014
Other Works in this Series on SuccuWiki
Plot Summary
When 21-year-old Nolan Bishop meets a seductive woman named Eva at a dark club in downtown Shreveport, Louisiana, little does he know his soul will be gone as soon as she is. Realizing she's taken something from him, he finds out he has a very limited time to destroy her before he turns into something sinister and inhuman. In a race against all that is holy, Nolan has to find Eva and get his soul back while trying not to fall in love with Charity, the twin sister of the succubus who took his soul – all in seven days.
Book Review
At the time of this article's entry in the SuccuWiki, no review was available. Tera has this work on her reading list and will review it shortly.
External Links