Soul Catcher (eBook)
Jump to navigation
Jump to search
Soul Catcher

Soul Catcher Book Cover, written by
Allan Dennis Rivard de Lacoursiere
Author(s)
Allan Dennis Rivard de Lacoursiere
Series
Crystal Raven
Publisher
Allan Lacoursiere (eBook)
Thumb Print Press (Paperback)
Publication date
July 23, 2012
August 9, 2016 (Reissue)
Media type
eBook
Paperback
Length
382 Pages
ISBN
978-0986884702 (Paperback)
ASIN
B01K5E5EG0 (eBook)
Followed by
Wiccan Apotropaic
For other uses of the word Succubus, see Succubus (disambiguation).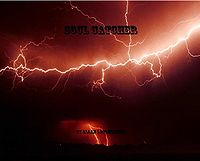 Soul Catcher is a novel written by Allan Dennis Rivard de Lacoursiere. It is the first work in the Crystal Raven series by this author. In this work the character Crystal Raven is a Succubus and is described in this work as the last of her kind. References are also made to Incubi as well.
Overview
Title: Soul Catcher
Author: Allan Dennis Rivard de Lacoursiere
Published By: Allan Lacoursiere & Thumb Print Press
Length: 382 Pages
Format: eBook & Paperback
ASIN: B01K5E5EG0 (eBook)
ISBN-10: 0986884707 (Paperback)
ISBN-13: 978-0986884702 (Paperback)
Publishing Date: July 23, 2012, August 9, 2016 (Reissue)
Other Works in this Series on SuccuWiki
Plot Summary
Our creation myth begins with a war in Heaven, a war between two factions of angels. What if that war had not ended, but continued here on Earth – fought by a secret order within the church, men and women charged with the monitoring, checking the incursions of, and hiding the very existence of the demons they fought?
Soul Catcher begins the story of Crystal Raven, the last succubus in existence. Unable to remember who or what she is, her only protector is a French Canadian monk who teaches kindergarten in New York City. He has much to protect her from. A conclave of vampyres seek to destroy her like they have all the others of her kind.
Determined to raise her as a normal teenage girl, Jean-Claude sends Crystal to the Academy of the Apocrypha. This high school is far from typical, however. Populated by Goths, and Wiccans, and the odd demi-human who have sought sanctuary with the church, it is one of thirteen academies hidden throughout the world where the Vatican trains its demon hunters.
Book Review
At the time of this article's entry in the SuccuWiki, no review was available. Tera has this work on her reading list and will review it shortly.
External Links