Sinful Cravings (eBook)
Jump to navigation
Jump to search
Sinful Cravings

Sinful Cravings eBook Cover,
written by Annie Nicholas
Author(s)
Annie Nicholas
Series
Lake City Stories
Publisher
Annie Nicholas
Publication date
August 5, 2014 (Original)
October 12, 2020 (Reissue)
Media type
eBook
Length
200 Pages
ISBN
9781310474897
ASIN
B00MGCHO8Q (Original)
B08JKQY1KV (Reissue)
Preceded by
Starved For Love
For other uses of the word Succubus, see Succubus (disambiguation).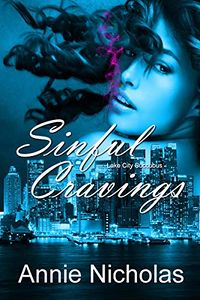 Sinful Cravings is an eBook written by Annie Nicholas. It is the third work in the Lake City Stories series by this author. In this work the character Pia Blyton is a Succubus.
Overview
Title: Sinful Cravings
Author: Annie Nicholas
Published By: Annie Nicholas
Length: 200 Pages
Format: eBook
ASIN: B00MGCHO8Q (Original), B08JKQY1KV (Reissue)
IBSN: 9781310474897
Publishing Date: August 5, 2014 (Original), October 12, 2020 (Reissue)
Other Works in this Series on SuccuWiki
Plot Summary
Pia Blyton, a succubus, isn't ready for an official engagement since her skillset consists of setting kitchens on fire, singing at vampire hellholes, and most embarrassingly, she recently passed out in bed while feeding Valerio Hunan, the most eligible incubus in Lake City. Yet somehow he turns a blind eye to all her faults and still wants to set his marriage tattoos on her wrists.
The compulsion to have sex forces their people to have unconventional relationships. Every three days, she has to orgasm creating energy to survive. She can't even live off bad sex. Unlike her, Val can't feed off just anyone. He consumes the energy only a succubus creates and his hunger isn't on a clock. Most incubi feed legally by luring multiple succubi into marriage with money and power. Val had caught Pia by the heart strings. Sneaky bastard.
When his food supply suddenly stops, he's faced with starvation. Despite Pia's adoration, she's not an all you can eat buffet. He would suck her dry of all her life force within days. In order to save her, Val forces her to leave. With nowhere to go, Pia ends up at the last place she wants to be—her parent's home, with nothing but her pink suitcase and a list of all her failures.
Pia needs to pull on her big girl panties and figure out why Val's energy supplies have stopped arriving before he kills some unsuspecting succubus. But the demon inside Val is closer to the surface than either of them realize. When Pia leaves, the only thing on its mind is tracking her down and dragging her back into its bed where she belongs...even if it kills her.
Book Review
At the time of this article's entry in the SuccuWiki, no review was available. Tera has this work on her reading list and will review it shortly.
External Links