Sigil Fire (eBook)
Jump to navigation
Jump to search
Sigil Fire

Sigil Fire Original eBook Cover,
written by Erzabet Bishop
Author(s)
Erzabet Bishop
Series
Sigil Fire
Publisher
Ylva Publishing (Original)
Naughty Nights Press (Reissue)
Publication date
June 8, 2014 (Original)
November 13, 2018 (Reissue)
Media type
eBook
Length
104 Pages (Original)
278 Pages (Reissue)
ISBN
9783955331702 (Original)
ASIN
B00KVJ2EDQ (Original)
B07JW65LKL (Reissue)
Followed by
Written on Skin
For other uses of the word Succubus, see Succubus (disambiguation).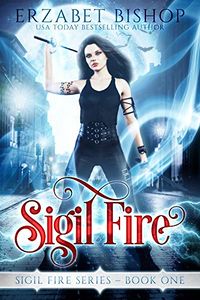 Sigil Fire is an eBook written by Erzabet Bishop. It is the first work in the Sigil Fire series by this author. In this work the character Sonia is a Succubus and other characters are Succubi as well.
Overview
Title: Sigil Fire
Author: Erzabet Bishop
Published By: Ylva Publishing (Original), Naughty Nights Press (Reissue)
Length: 104 Pages (Original), 278 Pages (Reissue)
Format: eBook
ASIN: B00KVJ2EDQ (Original), B07JW65LKL (Reissue)
IBSN: 9783955331702 (Original)
Publishing Date: June 8, 2014 (Original), November 13, 2018 (Reissue)
Other Works in this Series on SuccuWiki
Plot Summary
Sonia is a succubus with one goal: stay off Hell's radar. But when succubi start to die, including her sometimes lover, Jeannie, she's drawn into the battle between good and evil.
Fae is a blood witch turned vampire, running a tattoo parlor and trading her craft for blood. She notices that something isn't right on the streets of her city. The denizens of Hell are restless. With the aid of her nest mate Perry and his partner Charley, she races against time before the next victim falls. The killer has a target in his sights, and Sonia might not live to see the dawn.
Book Review
At the time of this article's entry in the SuccuWiki, no review was available. Tera has this work on her reading list and will review it shortly.
External Links