Reality's F**ked! (eBook)
Jump to navigation
Jump to search
Reality's F**ked!

Reality's F**ked! eBook Cover,
written by Simone Scarlet
Author(s)
Simone Scarlet (Original)
Ruby Beauvoir (Reissue)
Publisher
Amazon Digital Services
Publication date
August 11, 2017 (Original)
March 6, 2019 (Reissue)
Media type
eBook
Length
55 Pages
ASIN
B074RM2Q4G (Original)
B07PK5LWFT (Reissue)
Followed by
Sex to Die For: Three Tales of Thrilling Sexual Adventure
For other uses of the word Succubus, see Succubus (disambiguation).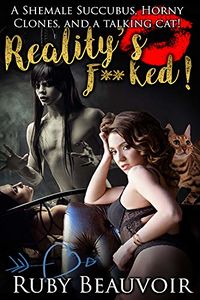 Reality's F**ked! is an eBook written by Simone Scarlet and reissued under the author name Ruby Beauvoir. In this work one of the characters can be described as a kind of Succubus.
Overview
Title: Reality's F**ked!
Author: Simone Scarlet
Published By: Amazon Digital Services
Length: 55 Pages
Format: eBook
ASIN: B074RM2Q4G (Original), B07PK5LWFT (Reissue)
Publishing Date: August 11, 2017 (Original), March 6, 2019 (Reissue)
Plot Summary
What happens when you don't pay your Reality Bill?
That's what newlyweds Simon and Gina find out in this bonkers sci-fi adventure chock full of nerdy humor, explicit sex and crazy adventures. Newlyweds Simon and Gina have forgotten to pay their Reality Bill - and now all sorts of fictional hijinks are bleeding into their mundane reality. From cowboys and Indians, to prison escapes and vampires, it seems nothing's too crazy to be coming true. At first you'd think living without reality for a weekend might be fun - and Simon and Gina certainly make the most of it! But they soon find out that it's not all talking cats and clone-fueled orgies. When a kinky experiment goes wrong, Simone and Gina - plus their sexy friend Keri - suddenly find out that life without reality is more dangerous than they could possibly have imagined! Especially when they find themselves facing off against a sociopathic, sex-mad clone of one of Hollywood's most famous leading ladies - and she's packing a package that would make any male porn-star jealous!
Reality's F**ked! is a screwball comedy sci-fi adventure featuring nerdy humor, pop culture references, explicit sex, a clone-fueled orgy and a demonic, shemale facsimile of a world-famous female celebrity.
Book Review
The following review was originally published by Tera on her Blog, A Succubi's Tale on September 5, 2017

Simon and Gina have a small problem: Their reality bill wasn't paid and the impossible becomes possible. Be it science fiction becoming real, demons having their way, or a cat that has an attitude, that bill needs to be paid soon. But there's still time for things to go a little bit weird. Or a lot weird.
The work reads very much like a mixture of anything written by Douglas Adams with a smattering of any one of a number of erotica writers. As such, there is a lot of name dropping, tropes and similar themes that result in a lot of situations that can't help but be laughed at.
There's a good deal of erotica in the work, but it's not exactly filled with heat, tending towards something like a summary of some well-known porn movie themes mixed with a lot of hentai storylines. The focus of the work seems to be in the humour, which has its moments, but the erotica didn't really work for me overall.
That then brings me to the succubus of the work. Who that is I'll leave aside in this review, but it's hilariously used. She's very stereotypical, not having much in the way of personality as well. She's a means to an end and not a lot more than that. Still, this isn't meant to be a story with a lot of character development or meaning, it's supposed to be a laugh and it is.
It's a cute and funny story, but overall it really isn't a story about succubi in any great way. Still the story was well told and it was a lot of fun to read. There's a clear path towards another story set in this universe, but whether or not that happens, this was an interesting fun story. I just wish there's be more succubi within the story than there is.
Two and a half out of five pitchforks.
If you like comedy in a Monty Python way, this work might interest you. From the aspect of being a story about succubi, it's only barely so.
External Links