Radley's Home for Horny Monsters (eBook)
Jump to navigation
Jump to search
Radley's Home
for Horny Monsters

Radley's Home for Horny Monsters
eBook Cover, written by Annabelle Hawthorne
Author(s)
Annabelle Hawthorne
Publisher
Wet Leaf Press
Publication date
October 23, 2018
Media type
eBook
Length
302 Pages
ISBN
9781949654004
ASIN
B07JWC7KGZ
For other uses of the word Succubus, see Succubus (disambiguation).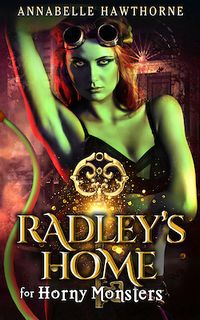 Radley's Home for Horny Monsters is an eBook written by Annabelle Hawthorne. In this work the character Lily is a Succubus.
Overview
Title: Radley's Home for Horny Monsters
Author: Annabelle Hawthorne
Published By: Wet Leaf Press
Length: 302 Pages
Format: eBook
ASIN: B07JWC7KGZ
ISBN: 9781949654004
Publishing Date: October 23, 2018
Plot Summary
When Mike Radley inherited a mysterious old house from a long-lost relative, he wasn't sure what to expect. He didn't expect a sexual encounter with the water spirit living in his bathtub. He really didn't expect the rooms to be occupied by other mythical creatures. And he definitely didn't expect to become the target of a secret society bent on stealing the home's magic.
Book Review
At the time of this article's entry in the SuccuWiki, no review was available. Tera has this work on her reading list and will review it shortly.
External Links