Night Warriors: Darkstalkers' Revenge
Jump to navigation
Jump to search
For other uses of the word Succubus, see Succubus (disambiguation).

For the anime miniseries, see Night Warriors: Darkstalkers' Revenge (anime).
Night Warriors: Darkstalkers' Revenge


Japanese Sega Saturn version cover art of Vampire Hunter: Darkstalkers' Revenge
Developer(s)
Capcom
Publisher(s)

Capcom

Platform(s)

CP System II, Sega Saturn

Release date(s)
1995-1996
Genre(s)
Fighting game
Mode(s)
Single-player, Multiplayer
Media/Digital distribution
CD-ROM
Night Warriors: Darkstalkers' Revenge (titled as Vampire Hunter: Darkstalkers' Revenge (ヴァンパイア ハンター, Banpaia Hantā?) in Japan), is the first sequel in the Darkstalkers fighting game series, developed and released by Capcom originally for the arcades in 1995 and for Sega Saturn in 1996.
The game was included in Vampire: Darkstalkers Collection, a compilation of all five Darkstalkers arcade games that were released in Japan only for the PlayStation 2 in 2005. It will be also included in a remastered form as part of the upcoming Darkstalkers Resurrection for the PlayStation Network and Xbox Live Arcade.
In this game, the succubi sisters Morrigan Aensland and Lilith Aensland appear.
Gameplay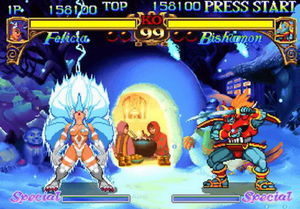 Night Warriors introduces several gameplay changes to the series. The game introduces two new playable characters, Donovan Baine and Hsien-Ko, "Dark Hunters" who were out to hunt the other Darkstalkers in the game (hence the Japanese title, Vampire Hunter). The two bosses from the first game, Huitzil and Pyron, are now playable characters as well.
The main change in Night Warriors is the ability for the player to stock up on their special gauge, allowing them to store more than one special gauge and preserve them through the entire match. Two types of Super Moves are featured in the game: ES Specials, requiring a portion of the Special gauge, and EX Specials, which require an entire stock of the Special gauge to perform. Players can choose between a "Normal" gameplay style or one that offers Auto-Blocking. This game also introduces Chain Combos to the series.
Plot
Pyron invades Earth to add to his collection of planets that he has devoured. Enter the world's most fearsome monsters who, ironically, are the last defense of mankind. Meanwhile, two darkstalker hunters make their presence known and join in the fray.
Saturn version
A Sega Saturn port was released in 1996, featuring an "Appendix Mode" that allows players to customize the backgrounds, the opponents' colors and background music between the regular ones and the ones used in the original Darkstalkers.
Reception
VideoGames gave Night Warriors: Darkstalkers' Revenge a 9/10, calling it "a must-purchase for fight fans and Saturn owners".[1] Game Informer gave this "truly unique fighter" game with an "a unique play mechanic for a 2D fighter" a 7.5/10, adding that the game is "definitely amazing to look at" because of its "amazing" animation.[2] A review by GameFan called it "one of Capcom's best fighters to date" with "possibly the best animation on a home fighting game yet", "an amazing translation, and a big improvement over X-Men", and "a Saturn exclusive you must own."[3] In 2010, GamePlayBook ranked it as the fifth best 2-D fighting game ever made, "thanks to its gorgeous animation, fun traditional 2-D gameplay and ridiculously cool character line-up."[4]
References
External links
Games
Compilations
Other media
Succubus Characters
Move Set