Mesmerized (eBook)
Jump to navigation
Jump to search
Mesmerized



Mesmerized Original eBook Cover, written by Julia Crane & Talia Jager

Author(s)
Julia Crane
Talia Jager
Publisher
Valknut Press
Publication date
November 29, 2011
Media type
eBook
Paperback
Length
258 Pages
ISBN
978-0983752066 (Paperback)
ASIN
B006G24V7E (eBook)
For other uses of the word Succubus, see Succubus (disambiguation).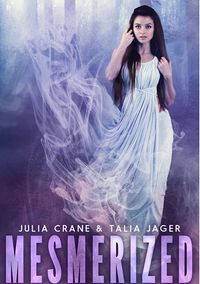 Mesmerized is an eBook written by Julia Crane & Talia Jager. In this story, the character Lily Anderson is a Succubus.
Overview
Title: Mesmerized
Author: Julia Crane & Talia Jager
Published By: Valknut Press
Length: 258 Pages
Format: eBook & Paperback
ASIN: B006G24V7E (eBook)
ISBN-10: 0983752060 (Paperback)
ISBN-13: 978-0983752066 (Paperback)
Publishing Date: November 29, 2011
Plot Summary
Seventeen-year-old succubus Lily Anderson can't have a normal life: She isn't allowed a boyfriend, she has no friends, and school is just one mess-up after another.
Lily's parents send her away to the prestigious Emerson Academy. It doesn't appear to be any different from the others. That is, until she meets her roommate, Hannah, and a blue-eyed boy named Jake.
Lily makes an almost deadly mistake, and Jake has a mysterious past that has come back to haunt him. Together, they must go on the run from things neither of them understand in order to save the people they love—and each other. But, Jake's foe is more dangerous than they realized, and it will take the help of friends and family to save the man Lily loves.
She must learn to use her powers for good before it's too late.
Book Review
At the time of this article's entry in the SuccuWiki, no review was available. Tera has this work on her reading list and will review it shortly.
External Links