Lover's Playground (eBook)
Jump to navigation
Jump to search
Lover's Playground

Lover's Playground eBook Cover,
written by Vanessa Sparks
Author(s)
Vanessa Sparks (Original)
Leah Hante (Reissue)
Publisher
Hydra Productions(Original)
Amazon Digital Services (Reissue)
Publication date
September 4, 2018(Original)
March 23, 2021 (Reissue)
Media type
eBook
Length
20 Pages
ASIN
B07H3KDTGN(Original)
B08X2W41R5 (Reissue)
For other uses of the word Succubus, see Succubus (disambiguation).
For other uses of the word Incubus, see Incubus (disambiguation).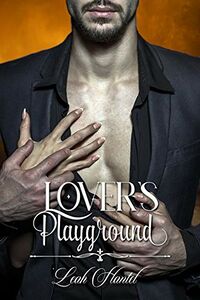 Lover's Playground is an eBook written by Vanessa Sparks, later reissued under the author name Leah Hantel. In this work the one of the characters is a Succubus and another is an Incubus.
Overview
Title: Lover's Playground
Author: Vanessa Sparks (Original), Leah Hante (Reissue)
Published By: Hydra Productions(Original), Amazon Digital Services (Reissue)
Length: 20 Pages
Format: eBook
ASIN: B07H3KDTGN(Original), B08X2W41R5 (Reissue)
Publishing Date: September 4, 2018 (Original), March 23, 2021 (Reissue)
Plot Summary
The territory of a succubus or an incubus is a fiercely guarded thing, so when young demoness Hellia senses her old rival nearby, she will stop at nothing to get rid of him. She challenges the upstart incubus to a dangerous, but sensual, contest. The loser not only gets the territory but bragging rights as well which might be even better.
The first to succumb to pleasure loses all... but is it really losing?
Book Review
At the time of this article's entry in the SuccuWiki, no review was available. Tera has this work on her reading list and will review it shortly.
External Links