Living Among Others (eBook)
Jump to navigation
Jump to search
Living Among Others

Living Among Others eBook Cover,
written by Amanda Littrell
Author(s)
Amanda Littrell
Publisher
Smashwords, Amazon Digital Services
Publication date
March 12, 2015 (Original)
November 19, 2020 (Revised)
Media type
eBook
Length
285 Pages
ISBN
9781311917072
ASIN
B08N3N7Y8K
For other uses of the word Incubus, see Incubus (disambiguation).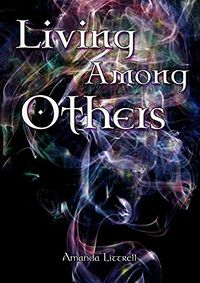 Living Among Others is an eBook written by Amanda Littrell. In this work one of the characters is an Incubus.
Overview
Title: Living Among Others
Author: Amanda Littrell
Published By: Smashwords & Amazon Digital Services
Length: 285 Pages
Format: eBook
ASIN: B08N3N7Y8K
IBSN: 9781311917072
Publishing Date: March 12, 2015 (Original), November 19, 2020 (Revised)
Plot Summary
Alexis Ayon has nothing but prejudices towards the supernatural beings living among humans. However, her eyes are forced to see Others differently once she comes across the sexy supernatural slash successful lawyer with the predatory glint in his eyes.
Alexis has known since she was 5 that other type of beings exist, she has been playing hide and seek her whole life with a deranged Mage, thanks to whom she is able to pinpoint any supernatural who gets close to her. But all she longs for is to live a normal human life, even when such a thing is not for her. She is finally somewhat happy and living in the lovely Nenagh, Ireland, where she meets the mysterious supernatural Ezekiel, after their appalling first encounter she's determined to never see him again, Ezekiel though has completely different plans for the human he just met… a human whom he finds utterly stunning with a vibrant spark around her, which calls out to his Otherness.
Book Review
At the time of this article's entry in the SuccuWiki, no review was available. Tera has this work on her reading list and will review it shortly.
External Links