Little Demon (eBook)
Jump to navigation
Jump to search
Little Demon

Little Demon eBook Cover,
written by Darcy Varga
Author(s)
Darcy Varga
Series
Love with an Improper Demon
Publisher
Amazon Digital Services
Publication date
October 10, 2014
Media type
eBook
Length
144 Pages
ASIN
B016IPI1QK
Preceded by
Love with an Improper Demon
For other uses of the word Incubus, see Incubus (disambiguation).
For other uses of the word Succubus, see Succubus (disambiguation).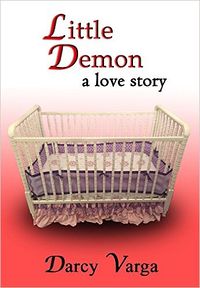 Little Demon is an eBook written by Darcy Varga. It is the second work in the Love with an Improper Demon series by this author. In this work, two of the main characters are Incubi and Succubi appear as minor characters as well.
Overview
Title: Little Demon
Author: Darcy Varga
Published By: Amazon Digital Services
Format: eBook
Length: 144 Pages
ASIN: B016IPI1QK
Publishing Date: October 10, 2014
Other Works in this Series on SuccuWiki
Plot Summary
Corbin Kraus has braved the demon world to get his incubus lover, Litu, back by his side. But now the real challenge begins.
Despite being thoroughly male, Corbin finds himself carrying Litu's heir and possibly the last hope for a dying race. In the meantime, he'll have to deal with strange changes to his body, a moody demon lover, a snoopy coworker, and an unhinged fundamentalist bearing doomsday prophesies. And why is Litu acting so oddly? Does it have anything to do with the terrible and violent dreams he's been having lately?
Book Review
At the time of this article's entry in the SuccuWiki, no review of this work was available. Tera has purchased this work and will review it as soon as possible.
External Links