Genesis Queen
Jump to navigation
Jump to search
Genesis Queen

Genesis Queen Original eBook Cover,
written by Gracen Miller
Author(s)
Gracen Miller
Series
Road To Hell
Publisher
Decadent Publishing Company
Publication date
December 15, 2012
Media type
Paperback
eBook
Length
376 Pages
ISBN
978-1482698367
ASIN
B018WMRQ4A
Preceded by
Hell's Phoenix
Followed by
Royal Partnerships
For other uses of the word Succubus, see Succubus (disambiguation).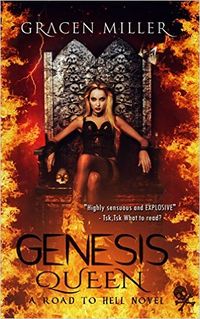 Genesis Queen is an eBook written by Gracen Miller. It is the third work in the Road To Hell series by this author. In this work the character Madison Wescott is described as being a half-succubus.
Overview
Title: Genesis Queen
Author: Gracen Miller
Format: Paperback & eBook
Publisher: Decadent Publishing Company
Length: 376 Pages
ASIN: B018WMRQ4A
ISBN-10: 1482698366
ISBN-13: 978-1482698367
Release Date: December 15, 2012
Other Works in this Series on SuccuWiki
Plot Summary
Victory is hollow when fate maneuvers one as a pawn.
Madison's mission is complete. Nix is rescued from Hell and her son safe from his dark destiny. But as she rests in the safe harbor of Nix's love, her demonic husband warns of a murderous plot. Can she trust that it's the truth and not another scheme to claim her for Hell's throne?
Sometimes internal conflict can house our biggest demons.
With allies divided and prophecy heralding defeat, Madison gambles on Micah's tenuous honor to keep their son protected. Torn between her heart's desires and her dark requirements, Madison worries her hellish fate cannot be avoided. When betrayal comes from an unlikely direction, all their futures may be damned. In the darkest hour of Madison's life, an undeniable providence will transpire. Who can she trust? And how far will she fall to defeat her foes?
Amid the rubble of defeat, will Hell's Genesis Queen dawn?
Book Review
At the time of this book's entry in the SuccuWiki, no review was available. Tera has this work on her reading list and will review it as soon as possible.
External Links