Fire Maiden (Novel)
Jump to navigation
Jump to search
Fire Maiden

Fire Maiden Original eBook Cover,
written by Tina Gerow
Author(s)
Tina Gerow
Publisher
Books We Love (eBook)
Triskelion Publishing (Paperback)
Publication date
October 2006
Media type
eBook
Paperback
Length
296 Pages
ISBN
9781927476277 (eBook)
978-1933874371 (Paperback)
ASIN
B0087HC5OM (eBook)
For other uses of the word Succubus, see Succubus (disambiguation).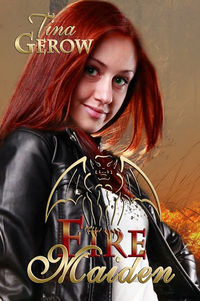 Fire Maiden is an eBook written by Tina Gerow. In this work the character Jeslyn is a Succubus.
Overview
Title: Fire Maiden
Author: Tina Gerow
Published By: Books We Love (eBook), Triskelion Publishing (Paperback)
Length: 296 Pages
Format: eBook & Paperback
ASIN: B0087HC5OM (eBook)
IBSN: 9781927476277 (eBook)
ISBN-10: 1933874376 (Paperback)
ISBN-13: 978-1933874371 (Paperback)
Publishing Date: October 2006
Plot Summary
With her pregnant sister due to give birth at any moment, Kefira Knight takes charge of controlling the beasties that come calling in an effort to thwart prophecy. She's got her hands full. Seems the supernatural population isn't finished with the gargoyle sisters and this time, Kefira has her own trouble with an ex-lover that dumped her centuries ago. Dagan knows Kefira holds a grudge, but trying to kill him is just her way of letting him know she still cares. Be prepared for another wild and whacky time in this sequel as a Succubus queen plots with a wicked Vampire to substitute their child for the child of the Blood.
Book Review
The following review can be found in the External Links below:
5.0 out of 5 stars
Absolutely fantastic!
Reviewed On: October 22, 2006
Reviewed By: Deborah Wiley
Prophecy is a fickle thing. Kefira Knight and her three Gargoyle sisters had hoped they were done with prophecy after Ariel's pregnancy with the son of the blood. But it seems that Kefira is to play a part in the prophecy as well....
Kefira's sharp temper ignites when her former lover, Paladin Dagan Grayson, shows up on the doorstep of the ranch she and her sisters are sharing with Ariel's new husband. Kefira still bears deep emotional scars from the loss of their child when she turned to stone for healing. Meanwhile, Jeslyn, Queen of the Succubus clan, has a nefarious plot afoot to halt the rise of Good. Kefira must choose a path- will she choose Good or Evil?
Tina Gerow's Gargoyle series is amazing! Once warriors for God (who is female), the Gargoyles have been released from their duties. Their choices, however, still affect humans via prophecy. The intricate details of the prophecy are cleverly interwoven into the plotline with a mixture of romance, supernatural creatures, and intrigue. While Fire Maiden can be read as a stand alone novel, the background information on Kefira in Stone Maiden greatly enhances the emotional impact of the storyline surrounding her accidental abortion of her baby many years ago. These emotions play a pivotal role in Fire Maiden and so reading Stone Maiden is helpful, although not required for a complete understanding of Kefira's plight.
Kefira's temperament only makes her more endearing to this reviewer. Kefira is quick to anger but her love for those close to her runs deep. Her loyalty and love are thoroughly tested in Fire Maiden. Kefira's story also reveals a few intriguing twists to the overall Gargoyle prophecy plot and it will be interesting to see what direction Tina Gerow takes with these new revelations. In addition, Ms. Gerow interjects some humor that will leave female readers in particular laughing out loud!
Tina Gerow surpasses all expectations with Fire Maiden. In fact, this book may even be better than the fabulous Stone Maiden. Tina Gerow demonstrates with Fire Maiden that she is definitely an author to look out for in the paranormal genre.
External Links