Demon In Me
Jump to navigation
Jump to search
Demon In Me



Title Page of the Demon In Me webcomic

Author
black_lullaby
Website
http://demoninme.smackjeeves.com/
Current status / schedule
Abandoned
Launch date
September 15, 2008
End date
September 28, 2008
For other uses of the word Succubus, see Succubus (disambiguation).

Demon In Me was a webcomic created by the artist black_lullaby. The series was, and still is, hosted on the smackjeeves.com website. The first publishing date of the series was September 15, 2008 and was soon after abandoned on September 28, 2008. While the artist did produce two pages of the story, there was no actual plot developed.
As a result, both pages turned into title pages for the series. One did show the Succubus Yorumi in her Succubus form with horns and a tail. The creator of the series did list their idea for the series and what they planned, but we never did see anything more of the series regrettably.
It was noted that the series was to contain mature content, that being sexual themes, but never proceeded far enough for such things to be made part of the series.
Series Theme
According to the creator of the series, it was to follow the life of Miki Akurimi. She is a shy, meek, and plain-looking high school girl. After mustering up all of her courage, she wrote a love letter to her crush, but was harshly rejected. Her misery doesn't end there; after crying for the rest of the afternoon, Miki's luck turns worse when she was confronted by rapists! This incident triggered something she would've never guessed existed: her alter-ego, a succubus named Yorumi. Will Yorumi help Miki's love life and raise her self-esteem?
Series Information
Title: Demon In Me
Creator: black_lullaby
Date Started: September 15, 2008
Last Update: September 28, 2008
Current Status: Abandoned
Characters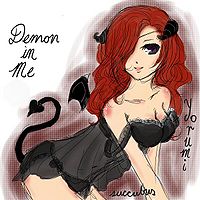 The only characters listed were two sides of the same being. One was human, the other was her Succubus form.
Yorumi
Yorumi is the Succubus of the story. Her human form is just minus the horns, tail, and wings. She is a succubus, a female demon who sexually tempts men, often while they are sleeping.
Miki Akurimi
Miki Akurimi is a shy, meek, and plain-looking high school girl. She is also the human side of Yorumi the Succubus.
External Links