Demon High
Jump to navigation
Jump to search
Demon High

Demon High Original Book Cover,
written by Lori Devoti
Author(s)
Lori Devoti
Series
Demon Calling
Publisher
Createspace (Paperback)
Smashwords (eBook)
Amazon Digital Publishing (eBook)
Fire and Fangs Publishing (eBook Reissue)
Publication date
January 7, 2011
Media type
eBook
Paperback
Length
312 Pages
ISBN
9781458055972 (eBook)
978-1456592608 (Paperback)
ASIN
B004IE9WLM (eBook)
For other uses of the word Succubus, see Succubus (disambiguation).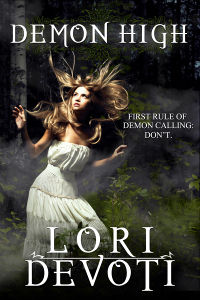 Demon High is a novel written by Lori Devoti. It is the first work in the Demon Calling series by this author. In this work the character Nellie is a succubus.
Overview
Title: Demon High
Author: Lori Devoti
Published By: 312 Pages
Length: Createspace (Paperback), Smashwords and Amazon Digital Publishing (eBook) & Fire and Fangs Publishing (eBook Reissue)
Format: eBook & Paperback
ASIN: B004IE9WLM (eBook)
IBSN: 9781458055972 (eBook)
ISBN-10: 1456592602 (Paperback)
ISBN-13: 978-1456592608 (Paperback)
Publishing Date: January 7, 2011
Overview
Title: Demon High
Author: Lori Devoti
Published By: CreateSpace / Smashwords / Amazon Digital Services
Format: eBook and Paperback
Length: 312 Pages
ISBN-10: 1456592602
ISBN-13: 978-1456592608
ASIN: B004IE9WLM
Publishing Date: January 7, 2011
Plot Summary
Lucinda Dent never planned to call demons. She wasn't stupid, after all. She'd seen what the addiction had done to her mother. But her mother has been gone for ten years, sucked into hell by a demon, and all Lucinda has left is her grandmother and the house she grew up in. Who could blame her for using the only thing her mother gave her, a talent for demon calling, to save them?
Lucinda teams up with an old friend and together they set up business, calling demons. But soon things go terribly wrong.
Demons are loose in Caldera High, and not only is Lucinda responsible, she just might be in love with one of them. Can love conquer all or is Lucinda about to lose everything--her home, her new love, and her soul?
Book Review
At the time of this article's entry in the SuccuWiki, no review was available. Tera has this work on her reading list and will review it shortly.
External Links