Deadeye (Novel)
Jump to navigation
Jump to search
Deadeye

Deadeye Reissue eBook Cover,
written by Darcy Abriel
Author(s)
Darcy Abriel
Publisher
Amber Quill Press, LLC (Original)
Dream Romantic Unlimited LLC (Reissue)
Publication date
January 14, 2011 (Original)
January 14, 2017 (Reissue)
Media type
eBook
Paperback
Length
145 Pages
ISBN
9781611249781 (Original)
9781370887194 (Reissue)
ASIN
B004I43LN2 (Original)
B01N34E83T (Reissue)
For other uses of the word Succubus, see Succubus (disambiguation).
For other uses of the word Incubus, see Incubus (disambiguation).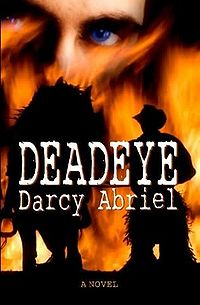 Deadeye is a novel written by Darcy Abriel. In this work the character Justus is an Incubus and the character Caecilia is said to have Succubus-like abilities.
Overview
Title: Deadeye
Author: Darcy Abriel
Published By: Amber Quill Press, LLC (Original), Dream Romantic Unlimited LLC (Reissue)
Length: 145 Pages
Format: eBook & Paperback
ASIN: B004I43LN2 (Original), B01N34E83T (Reissue)
ISBN-10: 1611249783
ISBN-13: 9781611249781 (Original), 9781370887194 (Reissue)
Publishing Date: January 14, 2011 (Original), January 14, 2017 (Reissue)
Plot Summary
Vitus, a lusty soldier, and Caecilia, an innocent handmaiden to Diana, first discovered love and passion on the banks of the Tiber in ancient Rome. But falling in love with the handmaiden of a goddess without permission brings the wrath of Diana down on both their heads. And retribution is not pleasant nor short-lived. In order to protect each other, Vitus agrees to serve Apollo, and Caecilia is sent to the courts of the lustful Aphrodite and thrust into the arms of a satyr for tutoring in the erotic arts.
It's centuries before these two lovers meet again. Now in the 1880's old west, Caecilia, an experienced immortal courtesan, has been sent to the Infernia dominion, and specifically to a town called Deadeye, to retrieve the son of the Nacraecian Dreamweaver Sorceress, who was fathered by the dark lord, Zevodious. Justus has been with his demon father since his birth. He is an incubus that must have the demon energy purged from him, and Aphrodite sends Caecilia to see the dark energy exorcised so that Justus may embrace his dreamweaver destiny. A task to be accomplished only through the act of lusty fornication. But Zevodious has one demand that must be met before he will release Justus.
Return to him Vitus, the Roman soldier who was once his slave, who escaped the deviant lusts of the dark lord with acute cunning. Possessing demon powers now, Vitus has been ordered by Apollo to return to Zevodious. In Deadeye, Vitus and Caecilia are reunited. Once again Vitus is challenged by the darkness that's become a part of his soul, while Caecilia is tempted by another. Will Vitus escape Zevodious again? Or in the end will Caecilia, the woman he's loved through eternity, end up sacrificed as well? Vitus would do anything to protect Caecilia, but will his submission to Zevodious actually save her?
And then there's Justus, with the demeanor of an angel and the soul of a demon, whose destiny lies in another direction. He must claim Caecilia for himself in order to purge the darkness that claims his own soul. Vitus, Caecilia, and Justus. Intertwined fates. Lust and sacrifice, passion and purpose, a demon's demand, a demon's desire--will they escape or be forever enslaved? Will love triumph? Or will it be a demon's powerful dark and all-consuming lust that claims them all?
Book Review
At the time of this article's addition to the SuccuWiki, there was no review available.
External Links