Dead Men's Boots
Jump to navigation
Jump to search
Dead Men's Boots

Dead Men's Boots Book Cover,
written by Mike Carey
Author(s)
Mike Carey
Series
Felix Castor
Publisher
Grand Central Publishing (Hardcover)
Orbit (eBook)
Publication date
July 23, 2009
Media type
Hardcover
eBook
Length
416 Pages
ISBN
978-0446580328 (Hardcover)
ASIN
B002FRFWYK (eBook)
Preceded by
Vicious Circle
Followed by
Thicker Than Water
For other uses of the word Succubus, see Succubus (disambiguation).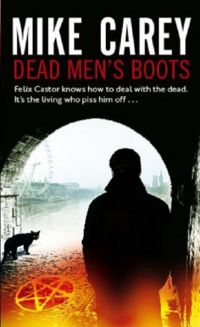 Dead Men's Boots is a novel written by Mike Carey. It is the third work in the Felix Castor series by this author. In this work the character Ajulutsikael, also known as Juliet, is a Succubus.
Overview
Title: Dead Men's Boots
Author: Mike Carey
Published By: Grand Central Publishing (Hardcover), Orbit (eBook)
Length: 416 Pages
Format: Paperback & eBook
ASIN: B002FRFWYK (eBook)
ISBN-10: 0446580325 (Hardcover)
ISBN-13: 978-0446580328 (Hardcover)
Publishing Date: July 23, 2009
Other Works in this Series on SuccuWiki
Plot Summary
You might think that helping a friend's widow to stop a lawyer from stealing her husband's corpse would be the strangest thing on your To Do list. But life is rarely that simple for Felix Castor.
A brutal murder in King's Cross bears all the hallmarks of a long-dead American serial killer, and it takes more good sense than Castor possesses not to get involved. He's also fighting a legal battle over the body - if not the soul - of his possessed friend, Rafi, and can't shake the feeling that his three problems might be related.
With the help of the succubus Juliet and paranoid zombie data-fence Nicky Heath, Castor just might have a chance of fitting the pieces together before someone drops him down a lift shaft or rips his throat out.
Book Review
The following review can be found in the External Links below
5 out of 5 stars
Delightful 3rd installment of Felix Castor
Reviewed on: August 28, 2008
Reviewed By: Colin P. Lindsey

I got very lucky a few years ago and stumbled upon "The Devil You Know" while shopping on Amazon. I ordered the book and found it to be a wonderful read exploring the trials and tribulations of Felix "Fix" Castor, a professional exorcist in a world that is a darker shade of our own. Felix practices his profession in a modern day London, but one that contains were-beasts, ghosts, demons, and zombies. Most of London toils on though paying little attention to these revenants, unless, of course, a ghost comes to haunt the place you call home or work. Whereupon Felix or one his competitors may get a call. If you haven't read "The Devil You Know" or the sequel "Vicious Circle" do yourself a favor a get yourself a copy of these books. They are simply delightful. I liked them so much I couldn't wait for Dead Man's Boots to be released here in the States and ordered it as an import.
Carey writes novels that feature complex characters, detailed and exciting plots, and some of the smoothest writing it has ever been my pleasure to read. The only disappointment in reading Carey is that even though the book may run over 500 pages, the next day you'll be blinking at the last page and wondering "how do I get more?"
I'm not generally into fiction that has magic, demons, ghosts, etc. mostly finding the genre formulaic and unimaginative. Carey blew a great big gaping hole into my assumptions and prejudices, happily showing me that this genre can be done superbly well. I am a complete convert, in least as regards to his works. His books are atmospheric, even noirish, and he tells fascinating, compelling stories that sweep you breathlessly from plot twist to plot twist, tales that always end on a surprising and satisfying note.
The protagonist, Felix Castor, is an amazingly well-drawn character...likeable, smart, and dogged as he chases after the bad guys, brandishing his tin whistle. Yep, between the forces of darkness and you is a tin whistle. Castor a big guy and very tough, but we learn that because all too often Castor finds himself on the receiving end of a beating. That's what happens when you try to run with demons, loup garous, and cultists. Even though he is an "exorcist", it would be more apt to describe him as an occult private detective. There a strong elements of Marlowe and Spillane peeking through these pages. You'll love Castor because he always gets back up again and struggles on trying to do the right thing, even while saddled with mounting bills, complicated relationships, doubtful friends, and enemies that are generally a step ahead. You'll find yourself cheering him on in an "everyman' way because he isn't batman, and a tinwhistle sure isn't the batmobile.
In Dead Man's Boots, Felix finds himself trying to unravel a dangerous mystery after a friend commits suicide and leaves a few, generally unhelpful, clues laying about as to why he did it. A nebulous, but threatening group, seems to be involved and a classic "locked room" mystery is then thrown in the mix. Felix soon finds himself battling with a monstrous cabal along with some friends. Friends that bring to mind the phrase "with friends like these who needs enemies?". This book is every bit as delightful as the first two, with the same complex plotting and smooth writing that I have come to love. Carey is one of those few writers who make it onto my "A" list, meaning that anything they publish is something I am going to read with no questions asked. Indeed, anything they publish is something I am going to get my hands on as soon as possible, even if I have to order it as an import. Try this series, you will not be disappointed, even if the genre is not your normal cup of tea.
External Links