Claiming the Succubus (eBook)
Jump to navigation
Jump to search
Claiming the Succubus

Claiming the Succubus Original eBook Cover,
written by Lorien Lyn
Author(s)
Lorien Lyn
Series
Takers
Publisher
Etopia Press (Original Release)
Amazon Digital Services (Reissue)
Publication date
September 23, 2015 (Original Release)
June 4, 2020 (Reissue)
Media type
eBook
Length
105 Pages
ISBN
9781944138066 (Original Release)
ASIN
B015RS47DA (Original Release)
B089Q25BQS (Reissue)
Followed by
Mating the Succubus
For other uses of the word Succubus, see Succubus (disambiguation).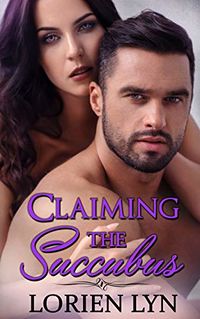 Claiming the Succubus is an eBook written by Lorien Lyn. It is the first work in the Takers series by this author. In this work the character Ava Hawley is a half-Succubus.
Overview
Title: Claiming the Succubus
Author: Lorien Lyn
Published By: Etopia Press (Original Release), Amazon Digital Services (Reissue)
Length: 105 Pages
Format: eBook
ASIN: B015RS47DA (Original Release), B089Q25BQS (Reissue)
IBSN: 9781944138066 (Original Release)
Publishing Date: September 23, 2015 (Original Release), June 4, 2020 (Reissue)
Other Works in this Series on SuccuWiki
Plot Summary
Being a Succubus has its perks…until the hunter becomes the hunted.
For half-breed succubus Ava Hawley, hunting supernatural foes is worth all the risks and rewards. But when a wolf shifter is responsible for kidnapping her sister, the mission becomes personal. Ava is ordered to track down the bad boy and turn him over to her boss. That is, until she meets the dangerously sexy shifter and realizes her charm—the kiss of death—is no match for the charms of her opponent.
Alpha werewolf Killian Reid is on the run from a demon mistress, but someone else is on his tail—a stunning seductress with more sex appeal than any woman ought to have. And Killian can't resist her. Proving his innocence will be a challenge, but with every moment that he spends with her, Ava's self-control weakens. And as their attraction grows, she knows she'll have to rely on the shifter she'd been sent to capture, or they'll both become victims to another predator…
Book Review
At the time of this article's entry in the SuccuWiki, no review was available. Tera has this work on her reading list and will review it shortly.
External Links