A Treatise on the Incubus or Nightmare
Jump to navigation
Jump to search
A Treatise on the Incubus or Nightmare



A Treatise on the Incubus or Nightmare Cover, written by John Waller

Author(s)
John Waller
Publisher
E. Cox and Son
Publication date
1816 With Reissues
Media type
Various Formats
Length
115 Pages
ASIN
B00D1D4MYI (Reprint)
For other uses of the word Incubus, see Incubus (disambiguation).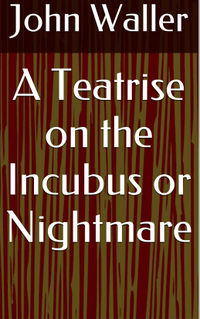 A Treatise on the Incubus or Nightmare is a paper written by John Waller. The work is an examination of the beliefs and understandings of what nightmares are and the connection to them of Incubi.
Overview
Title: A Treatise on the Incubus or Nightmare
Author: John Waller
Published By: E. Cox and Son
Length: 115 Pages
Format: eBook
ASIN: B00D1D4MYI (Reprint)
Publishing Date: 1816 (Reprinted many times)
Plot Summary
A teatrise on the incubus or nightmare, disturbed sleep. terrific dreams and nocturnal visions. With the means of removing these distressing complaints. The enjoyment of comfortable and undisturbed sleep, is certainly to be ranked amongst the greatest blessings which heaven has bestowed on mankind; and it may be considered as one of the best criterions of a person enjoying perfect health. On the contrary, any disturbance which occurs in the enjoyment of this invaluable blessing, may be considered a decisive proof of some derangement existing in the animal economy, and a consequent deviation from the standard of health.
Book Review
At the time of this article's entry in the SuccuWiki, no review was available.
External Links