'Twas the Darkest Night (eBook)
Jump to navigation
Jump to search
'Twas the Darkest Night
aka
The Darkest Night

'Twas the Darkest Night Original eBook Cover,
written by Sophie Avett
Author(s)
Sophie Avett
Publisher
Skeleton Key Publishing
Publication date
March 10, 2014
Media type
eBook
Length
571 Pages
ISBN
9781311639257
ASIN
B00IXXXUSU
For other uses of the word Incubus, see Incubus (disambiguation).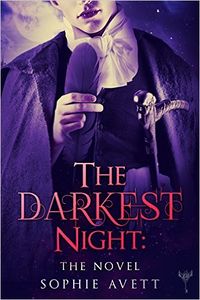 'Twas the Darkest Night is an eBook written by Sophie Avett. This work was also issued as The Darkest Night by this author. In this work the character Marshall is part-Incubus.
Overview
Title: 'Twas the Darkest Night aka The Darkest Night
Author: Sophie Avett
Published By: Skeleton Key Publishing
Length: 571 Pages
Format: eBook
ASIN: B00IXXXUSU
IBSN: 9781311639257
Publishing Date: March 10, 2014
Plot Summary
Owner and operator of Bits and Pieces, and resident expert on charms and glamours, Elsa Karr is a witch with a sour frown and a list of things to do as long as Thor's hammer. Top of the list is saving her father's shop from ruin. If she isn't trying to claw her way out of debt, she's arguing with her cat, Fenris, or shoveling carts of cake into her gob. She's not interested in romance or the vampire who rents the flat above her shop. All she wants is a little peace and chocolate—fine, all right! All right! The vampire is kind of screw-all cute. (Curse him.)
The disgraced son and heir of the Wingates House vampire clan and a mad-man to boot, Marshall Ansley spends most of his time working and dodging his mother's phone calls. Marshall is beyond family. He's beyond everyone, actually. Don't be daft, he especially doesn't do…Christmas. But behold, the plague brings an original flavor of annoyance this year when his boss tasks him with acquiring the account of a recluse fey and her upcoming Gothic clothing boutique, Sinister Stitches. That is the ONLY reason he's bothering with his shrewish landlord. No, that's it. No…really. Fine, if you insist, the witch might be a tad bit…all right, she's adorable. (Damn her.) Scrooge meets Scrooge. Dominant meets Dominant. Tempers…spark. In each other, they may unfold a tale that only comes to pass on the darkest of nights.
Book Review
The following review was originally published by Tera on her Blog, A Succubi's Tale on June 7, 2016

The work is, as a whole, a romance story between a witch and Marshall who is a mixture of several different supernatural beings, one of these being an incubus. However, his most prominent self is that of a vampire and as such that tends to be the focus of his character. There's very little actual commentary, or existence within the story, of his incubus side save for his sexual needs and thoughts.
Setting that aside, the book has an interesting little explanation about succubi and incubi in a glossary at the end of the work that I thought gave promise to something, but in the story itself that didn't happen. Still, the concept was something I thought could lead somewhere, and I do wish that had transpired.
As such, this work really isn't themed as being either succubus or incubus themed and being so that took quite a lot of my interest away from the work as a whole. It's a shame really because in the few notes about Marshall's incubus side, where that came from, and some of the incubi and succubi that inhabit this universe, came the possibility of something more about that. But it wasn't to be.
As a vampire romance, it is a cute read, the characters are very expressive and I liked the interplay between them. The story's adventure is well told, the events unfold in a complex weave and I did like that quite a lot. But there wasn't enough to keep me involved with the work as much as I should have been.
It's quite true that the story was written to have the vampiric nature of Marshall to be the driving force in the story, and that's perfectly fine. But having so many other supernatural beings wrapped up inside of him complicated his character more than needed I felt. Considering the centring of his character on being a vampire above all else he is, I can't quite see the point of his incubus aspects, or any of his others. A mention here and there about them doesn't add much to him and that is a shame because those are aspects that could be expanded upon. Well written, good characters, a unique setting and more. But there's not much for those looking for succubi or incubi overall.
Three out of five pitchforks.
Yes, in some small, almost insignificant way Marshall is an incubus. But saying he is one, then only offering his sex drive as being the point of it left me rather cold. More of a vampire book than anything else, which does work, but for my personal interests I didn't find a lot to hold onto.
External Links