Releasing the Succubus (eBook)
Jump to navigation
Jump to search

For other uses of the word Succubus, see Succubus (disambiguation).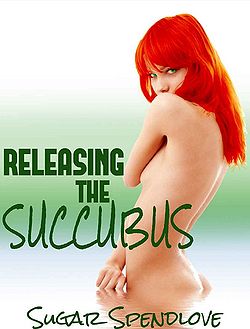 Releasing the Succubus is an eBook written by Sugar Spendlove. In this work, one of the main characters is a Succubus.
Overview
Title: Releasing the Succubus
Author: Sugar Spendlove
Published By: Amazon Digital Services
Length: 3,100 Words
ASIN: B0092HMBDG
Publishing Date: August 25, 2012
Plot Summary
When David stumbles upon an ancient site on an anthropology trip, he accidentally releases an ages-old succubus who is happy to show her thanks in the only way she knows how: with her body!
Book Review
At the time of this article's entry in the SuccuWiki, no review was available. Tera has purchased this work and will review it shortly.
External Links