Not What She Seems (eBook)
Jump to navigation
Jump to search
Not What She Seems



Not What She Seems eBook Cover, written by T.R. Raven

Author(s)
T.R. Raven
Publisher
Amazon Digital Services
Publication date
April 15, 2013
Media type
eBook and Paperback Formats
Length
359 Pages
ISBN
978-1483974828
ASIN
B00CDZF5N2
For other uses of the word Succubus, see Succubus (disambiguation).
For other uses of the word Incubus, see Incubus (disambiguation).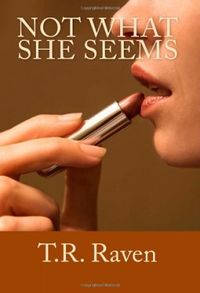 Not What She Seems is an eBook written by T.R. Raven. In this work the character Sylvia is a Succubus and the character Elora is an Incubus.
Overview
Title: Not What She Seems
Author: T.R. Raven
Published By: Amazon Digital Services
Length: 359 Pages
Format: eBook and Paperback Formats
ASIN: B00CDZF5N2
ISBN-10: 1483974820
ISBN-13: 978-1483974828
Publishing Date: April 15, 2013
Plot Summary
A succubi Hunter has come to Boston, and he's made Sylvia his #1 target. It couldn't be worse timing as she's newly at war against her nemesis, Elora. The ex-lover incubus who broke her heart two hundred years ago unexpectedly enters her life again, adding to the chaos. She must triumph over her enemy and straighten out her love life while avoiding becoming the Hunter's next victim, but as things unravel Sylvia discovers there is more to her than the average succubi, and she is Not What She Seems
Book Review
At the time of this article's entry in the SuccuWiki, no review was available. Tera has this work on her reading list and will review it shortly.
External Links