The Virgin Incubus (eBook)
Jump to navigation
Jump to search
The Virgin Incubus

The Virgin Incubus Original eBook Cover,
written by Stephani Hecht
Author(s)
Stephani Hecht
Series
Fangs, Fur and Fae Detective Agency
Publisher
MLR Press (Original Issue)
CJP0112 (Reissue)
Publication date
January 27, 2017 (Original Issue)
April 16, 2020 (Reissue)
Media type
eBook
Length
105 Pages
ASIN
B01N5TX5PK (Original Issue)
B0877829GM (Reissue)
For other uses of the word Succubus, see Succubus (disambiguation).
For other uses of the word Incubus, see Incubus (disambiguation).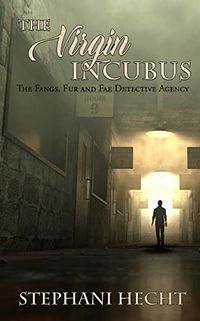 The Virgin Incubus is an eBook written by Stephani Hecht. It is the first work in the Fangs, Fur and Fae Detective Agency series by this author. In this work one of the characters is a Succubus and the character Atticus is an Incubus.
Overview
Title: The Virgin Incubus
Author: Stephani Hecht
Published By: MLR Press (Original Issue), CJP0112 (Reissue)
Length: 105 Pages
Format: eBook
ASIN: B01N5TX5PK (Original Issue), B0877829GM (Reissue)
Publishing Date: January 27, 2017 (Original Issue), April 16, 2020 (Reissue)
Other Works in this Series on SuccuWiki
Plot Summary
Born part human, part fairy, and part dark elf, the last thing Saint wants is to mix with the paranormal society at all. Sure, his partner in his detective agency is a werewolf. Saint has always overlooked that, since he and Bron had been friends for years.
Then, one day, Saint is confronted by a succubus. Her baby brother, Atticus, is in danger and needs to be rescued. Despite, his misgivings, Saint agrees to take the case. When they find the missing incubus, he has been starved, both of blood and sexual energy. Even though Saint thought he would never see it, Atticus is an incubus with a conscious, and doesn't want to hurt others.
Saint finds he had a strong contact with the virgin incubus. Can Saint make Atticus save himself? Or will their love be doomed before it even has a chance to blossom?
Book Review
At the time of this article's entry in the SuccuWiki, no review was available. Tera has this work on her reading list and will review it shortly.
External Links