The Incubus in the Attic
From SuccuWiki - The Wiki of the Succubi
The Incubus in the Attic



The Incubus in the Attic eBook Cover, written by Merabeth James

Author(s)
Merabeth James
Publisher
Smashwords
Amazon Digital Services
Publication date
February 20, 2011
Media type
eBook
Length
219 Pages
ASIN
B004OEKH7Y
For other uses of the word Incubus, see Incubus (disambiguation).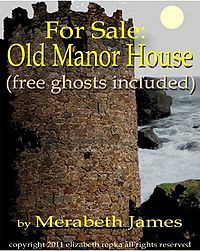 The Incubus in the Attic is an eBook written by Merabeth James. In this work one of the main characters, Colin, is an Incubus. This work has also been released as For Sale: Old Manor House (free ghosts included) by this author.
Overview
Title: The Incubus in the Attic / For Sale: Old Manor House (free ghosts included)
Author: Merabeth James
Published By: Smashwords & Amazon Digital Services
Length: 219 Pages
Format: eBook
ASIN: B004OEKH7Y
Publishing Date: February 20, 2011
Plot Summary
Gothic collides head-on with 21st century high tech in the isolated Cornish manor house hunkered on the cliffs above the restless sea, where the dead have their own plans for the living, as American paranormal investigator, Caitlin McLeod, is about to find out, when she accepts the assignment of 'debunking' a haunting at Mor Alys Manor.
Growing up with paranormal entities in all shapes, sizes and species in the Victorian mansion of her eccentric Aunt Penelope Trevelyan, who probably would have been burnt as a witch in another time, Caitlin had been told countless times that she was fated to travel to Cornwall "when the time is right" and find? Her aunt had said it would be love with a happy ending, but Caitlin had her doubts. So far, she hadn't found any man she was willing to spend more than a few hours with let alone a lifetime. But when she opens the letter from Thane Edmunds requesting her help, she feels a strange, intense pull that shoots a shiver of awareness through her entire being. Deep down, all the way to her toes, she knows the time was finally "right" and destiny had come banging on her door.
Caitlin's knack for ghost hunting had started in her college years, when she founded North East Paranormal Investigative Services, largely to protect her Goth friend and then roommate, Moira Smoot, from her own inept dabblings in the occult…something that had almost cost her more than her life. Since then, rules had been set up to help guard their safety in a setting, where anything could happen. Rules an excited Caitlin seems to forget, when she arrives in Cornwall ahead of her team and disregards NEPIS' first rule of ghost hunting…."never go in alone"… by driving out to the site for a quick look around before night fall. Expecting a caretaker, she is disappointed to find the dilapidated manor locked up tight and no one there, at least no one living, for she senses more than one pair of ghostly eyes witness her arrival.
Circling the outside, listening to the pound of the surf on the rocks below the cliffs, she finds the lock broken on the kitchen door and enters. Looking around the fast darkening, cavernous room, she notices that a cot had been set up in one corner and the swing door to the rest of the manor both padlocked and painted with a crudely drawn red cross. Knowing that can't be good…knowing she should get her keister out of there, but fast, and head back to the safety of the village, she finds herself battling an inexplicable compulsion to spend the night…and losing.
All alone in the dark, she begins to think she may have made a "horror"ble mistake, when she senses not only the usual ghosts and spirits that go 'bump in the night', but also the distant presence of Colin, the long dead fifth Earl of Eastwythe, now a restless incubus who plots to ensnare her in his delicious web of dark sexuality, since feeding his lust has been his sole antidote to an eternity he finds both "ducedly boring" and very lonely. But, listening to Caitlin moving about in the kitchen from his attic lair, he feels a twinge of conscience and decides to leave her "unmolested"…at least for the night. And so Caitlin, wrapping herself in the comforting memories of the past…cold…hungry…and more than a little scared, waits out the long, dark night unaware she has been given a short reprieve. One that Colin already regrets.
But when Thane Edmunds arrives in the morning, and hears Caitlin knocking out the hinge pins in his kitchen door in order to satisfy yet another compulsion to see the rest of the manor before she leaves for the village, the atmosphere heats up quickly in the old manor.
Confronting an angry Thane on the opposite side of the door, Caitlin manages to hold her own somewhat shaky ground, until the door falls inward and she finds herself just inches away from the most 'beautiful man' she has ever seen….a dark mix of fallen archangel and pirate…with a very disturbing way about him!
Book Review
At the time of this article's entry in the SuccuWiki, no review was available. Tera has this work on her reading list and will review it shortly.
External Links