Temptation of the Incubus
Jump to navigation
Jump to search
Temptation of the Incubus



Temptation of the Incubus eBook Cover, written by S.A. Garcia

Author(s)
S.A. Garcia
Publisher
Silver Publishing (Originally)
MLR Press (Reissue)
Publication date
October 22, 2011 (Originally)
May 18, 2015 (Reissue)
Media type
eBook
Length
175 Pages
ASIN
B00XVFH6C6
For other uses of the word Incubus, see Incubus (disambiguation).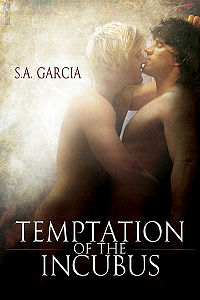 Temptation of the Incubus is an eBook written by S.A. Garcia. In this work the character Amando is an incubus. This work contains male/male sexual situations.
Overview
Title: Temptation of the Incubus
Author: S.A. Garcia
Published By: Silver Publishing (Originally), MLR Press (Reissue)
Length: 175 Pages
Format: eBook
ASIN: B00XVFH6C6
Publishing Date: October 22, 2011 (Originally)
May 18, 2015 (Reissue)
Plot Summary
Hybrid incubus, Amando is a true man-eater. Consuming life force to exist makes committing to long-term romance a difficult task.
The ancient Amando fears he's destined to be lonely, until he meets the humble electrician Mads Massimo, a human who innocently bites back.
Amando knows he should flee from this consuming human, but something in Mad's unique, pure soul binds them in true union. Amando is shocked; imagine an ancient demon falling in love with a human! But even as Mads drains Amando's life force, he cannot deny his love for his pure Mads. Drained and in pain, Amando wonders if he needs to confess his true identity.
When a certain scheming entity interferes with their relationship, the decision is taken out of Amando's hands. Is their love a match made in Heaven or Hell?
Book Review
At the time of this article's entry in the SuccuWiki, no review was available.
External Links