Summer of My Sex Demon (eBook)
Jump to navigation
Jump to search
Summer of My Sex Demon



Summer of My Sex Demon Original eBook Cover, written by Lyssa Dering

Author(s)
Lyssa Dering
Publisher
JMS Books LLC (Original)
Lyss.Press (Reissue)
Publication date
July 9, 2016 (Original)
October 11, 2018 (Reissue)
Media type
eBook
Length
25 Pages
ASIN
B01HE03CLW (Original)
B07JCCJVBM (Reissue)
For other uses of the word Incubus, see Incubus (disambiguation).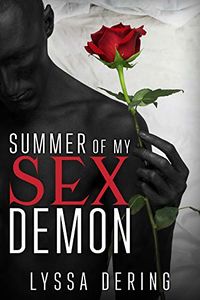 Summer of My Sex Demon is an eBook written by Lyssa Dering. In this work one of the characters is an Incubus.
Overview
Title: Summer of My Sex Demon
Author: Lyssa Dering
Published By: JMS Books LLC (Original), Lyss.Press (Reissue)
Length: 25 Pages
Format: eBook
ASIN: B01HE03CLW (Original), B07JCCJVBM (Reissue)
Publishing Date: July 9, 2016 (Original), October 11, 2018 (Reissue)
Plot Summary
With no job prospects in sight, recent college grad Cade is stuck at home at his parents' house for the summer. They've gone off on a three-month-long cruise, but they've left behind a list of strict rules and the ghost of their disappointment. Cade, who has taken his failure to secure a position hard, plans to spend all summer answering job listings.
The incubus stalking the neighborhood, however, has other plans. When he sets his sights on Cade, it's a mental and physical tug-of-war that they're both in for, with Cade's human brain and body no match for the pushy demon. Cade thinks his best bet is to persuade the incubus to leave him alive once he's done with him, but does the demon whispering sweet nothings into his ear want more than a meal?
Book Review
At the time of this article's entry in the SuccuWiki, no review was available. Tera has this work on her reading list and will review it shortly.
External Links