Se7en Deadly Sins
From SuccuWiki - The Wiki of the Succubi
Se7en Deadly Sins



Seven Deadly Sins DVD Cover

Directed by
Jonathan Morgan
Starring
Daisy Marie
Mikayla Mendez
Shyla Stylez
Studio
Wicked Pictures
Distributed by
Wicked Pictures
Release

date(s)

2008
Running time
90 Minutes
Country
USA
Language
English
For other uses of the word Succubus, see Succubus (disambiguation).

Se7en Deadly Sins is a 2008 adult movie staring Daisy Marie, Mikayla Mendez and Shyla Stylez. It was directed by Jonathan Morgan and released by Wicked Pictures. The film features a scene involving Mikayla Mendez playing the role of a succubus that masquerades as call girl in order to seduce her prey. As the scene continues it is eventually revealed through cut scenes that she is a Succubus.
Overview
Title: Se7en Deadly Sins
MPAA Rating: XXX - Sexual Content and Language
Director: Jonathan Morgan
Studio: Wicked Pictures
Genre: Erotica, Feature
Runtime: 90 Minutes
Release Date: 2008
Tagline: "Can Humanity Survive Wicked's Seven Deadly Sins? There is only one way to find out..."
Cast
Actor / Actress
Shyla Stylez
Eva Angelina
Rebeca Linares
Justin Magnum
Lee Stone
Kaylani Lei
Alexis Texas
Niko
Tom Byron
Scott Styles
Daisy Marie
Mikayla Mendez
Derrick Pierce
Randy Spears
Mr. Pete
Plot Summary
Sin (sins) Noun - An act, thought or way of behaving that goes against moral teachings. To knowingly commit a serious moral offense. Something that offends ethical principle. Join award winning director Jonathan Morgan as he explores the dark side of Sin with an all star line up of adult's biggest names.
The Succubus Scene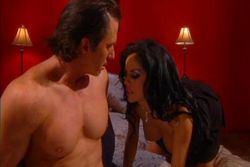 The Succubus scene begins 1 hour and 12 minutes into the film. The succubus played by Mikayla Mendez, takes the form of a call girl to seduce her victim. She succeeds and in their subsequent love making it is revealed to the viewer through cut scenes of her succubus nature.
Movie Review
The following review is part of a larger review of this movie at Sex Herald.com in the External Links below:
Se7en Deadly Sins
Reviewed by R.W. Hulme
Wicked Pictures are the vanguard for well-produced, good-looking pornography – and their latest release, Se7en Deadly Sins, lives up to that reputation from the get-go.
Se7en doesn't explain the concept behind the film – if any of the seven scenes included on the DVD correlate to a specific 'deadly sin,' it's not explained exactly how. But the scenes themselves are intended to feel deliciously sinful. They're all filmed in a similar style, using industrial/gothic sets and sharing mild elements of domination and submission.
The DVD kicks off with a scene in a scary dentist's office, with porn stalwart Randy Spears molesting an all-too-willing Kaylani Lei. Kaylani looks mouthwatering in a little 'Catholic schoolgirl' skirt – and whimpers and purrs seductively as Randy teases her with dental implements and then fingers and fucks her vigorously.
The next scene involves a beautiful Latin lady (Rebeca Linares) ordering a muscular 'luchador' wrestler around on a leash, before demanding he service her vaginally and anally. After that, the luscious Daisy Marie, dressed up like Little Red Riding Hood, encounters a sleek and muscular engineer in some dark and steamy factory setting - and gets all greasy with him while bent over a rusty generator.
'Sin' is definitely 'In' as far as director Jonathan Morgan is concerned – he touches on the sacrilegious with a wedding scene set in a gothic church. In another scene, a sexy stud hallucinates while having sex with a seductive Latin girl; he suddenly flashes into fantasy to find himself hammering a horn-headed devil woman.
Each of the seven scenes is beautifully filmed and the production values are very high. The girls are uniformly gorgeous and, Kaylani especially, get down to business with infectious enthusiasm.
External Links