Thank you for over 5.1 million views of the SuccuWiki!
Salia
From SuccuWiki - The Wiki of the Succubi

For other uses of the word Succubus, see Succubus (disambiguation).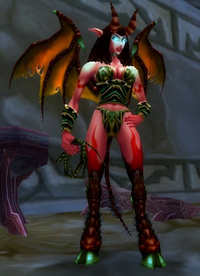 A character in the computer RPG game World of Warcraft.
Statistics
Gender: Female
Race: Succubus (Demon)
Level: 54 Succubus
Location: Shadow Hold, Felwood
Status: Alive
Story
Salia is a level 54 succubus found in Shadow Hold in Felwood. She and Moora are servants of Shadow Lord Fel'dan.
Greta Mosshoof wants them all killed.
Quests
Neutral-A Final Blow
Notes
She casts Cause Insanity on players, which is equal to Mind Control. Currently there is a bug which causes her to cast it even on a solo player, which causes all mobs involved in the fight to get out of combat and she subsequently instantly cancels the spell.