Saint Sinner
From SuccuWiki - The Wiki of the Succubi
Saint Sinner



Saint Sinner DVD Box Cover

Directed by
Joshua Butler
Produced by
Clive Barker
Oscar L. Costo
Joe Daley
Written by
Clive Barker
Screenplay by
Hans Rodionoff
Doris Egan
Starring
Greg Serano
Gina Ravera
Mary Mara
Rebecca Harrell
William B. Davis
Antonio Cupo
Music by
Christopher Lennertz
Cinematography
Barry Donlevy
Editing by
Sean Albertson
Studio
Seraphim Films
Distributed by
Universal Video
Release

date(s)

October 26, 2002
Running time
90 Minutes
Country
USA
Canada
Language
English
Budget
$3,900,000 (Estimated)
For other uses of the word Succubus, or movies involving Succubi, see Succubus (disambiguation).

Saint Sinner (full title Clive Barker Presents Saint Sinner) is a 2002 horror TV-movie written by Doris Egan and Hans Rodionoff based on a short story by executive producer Clive Barker. The film was directed by Joshua Butler. Aside from the title, it is unrelated to the Saint Sinner comic-book series published by Marvel Comics' Razorline imprint and created by Barker. In this movie, an immortal monk hunts down two succubi. It premiered on the American Sci Fi Channel on October 26, 2002.[1]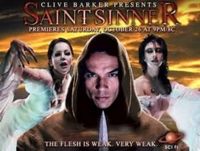 Overview
Title: Saint Sinner
Director: Joshua Butler
Writer: Clive Barker (Story), Doris Egan (Teleplay) and Hans Rodionoff (Teleplay)
Studio: Seraphim Films
Genre: Horror, Sci-Fi
Release Date: October 26, 2002
MPAA Rating: PG-13 - Sexual Content and Language
Runtime: 90 Minutes
Tagline: The Flesh Is Weak.
Cast
| Actor / Actress | Role |
| --- | --- |
| Greg Serano | Tomas Alcala |
| Gina Ravera | Det. Rachel Dressler |
| Mary Mara | Munkar |
| Rebecca Harrell | Nakir |
| William B. Davis | Father Michael |
| Antonio Cupo | Brother Gregory |
| Jay Brazeau | Abbot |
| Simon Wong | Wade |
| Boyan Vukelic | Playland Guard |
| Brian Drummond | Officer #1 |
| Peter Bryant | Officer #2 |
| Lisa Dahling | Officer #3 |
| Kris Pope | BrotherRafael |
| Robin Mossley | Clark |
| Donna Yamamoto | Irate Mother |
| Justine Wong | Little Girl |
| David Thomson | Vince |
| Linda Darlow | Sister Stephen |
| Art Hindle | Morgan Rand |
| Colin Lawrence | Steve |
Plot Summary
In 1815 California, Father Michael, an emissary of Pope Pius VII, has traveled to meet with novice monk Brother Tomas. The young monk's order serves as the secret repository for evil, supernatural objects collected by the Church, and kept there for safekeeping. Michael delivers an ancient statue that has trapped two beautiful female demons, Munkar and Nakir. Tomas and his friend Brother Gregory inadvertently release the murderous demons, who travel to the 21st century using the monastery's Wheel of Time. To redeem himself, Tomas pursues them to present-day Seattle, Washington, where he allies with police detective Rachel Dressler to recapture the homicidal terrors.
Critical Review
The following review is from Horror.com.
Reviewed By: stacilayne on December 5, 2004
Rating: 1.9/5
Also known as Clive Barker's Saint Sinner, this movie was originally produced for the Sci-Fi Channel and has seen a DVD run in the past year. Of course, the studios are famous for releasing several different versions of the same film, hoping to either snag someone who hasn't seen the movie or to get loyal fans to buy the same movie twice.
This DVD version of Saint Sinner has new commentary by Clive Barker and is unrated, showing scenes that were too racy for TV. Despite the addition of more boobs and blood, Saint Sinner is not any better; to paraphrase its tagline — The Flesh Is Weak — the movie is essentially weak.
It's got some things going for it. The plot, based on a story by Clive Barker, has an interesting premise: In 1815 a monk named Tomas Alcala (Greg Serano) unintentionally unleashes two demonic female succubi upon an unsuspecting 21st century. Tomas is chosen by God to journey through the centuries and put the kibosh on the demons' deadly shenanigans (why God would choose him, when he's the screw-up who caused the whole fiasco in the first place, is not explained).
Meanwhile, the succubi sisters, Munkar (Mary Mara) and Nakir (Rebecca Harrell), are having a good old time, slinking around, sexing it up, and the sucking the life-forces out of anyone who will stand still long enough. Corny special effects and over-the-top dialogue are a big part of these little outings, and the girls run unchecked until Brother Tomas catches up with them.
Tomas finds more than trouble when Detective Rachel Dressler (Gina Ravera) goes after him, making Tomas the prime suspect in the series of gruesome murders the succubi are actually responsible for. Needless to say, Tomas protests his innocence and proves to the cop that supernatural forces are at work — they decide that two heads are better than one (especially one that's severed) and team up to stop the evil imps.
While Saint Sinner is a fairly weak film when compared with Clive Barker's usual standard of work, it is somewhat above-average in comparison to more of the Sci-Fi Channel's original productions. If you like time travel, gratuitous sex and violence, and religious themes, then Saint Sinner might be worth the price of a rental. Buy it only if you're a fan of Barker and would like to listen to his over-the-movie commentary — he's always a source of enlightenment and fascination, no matter what he's talking about.
References
↑ "Clive Barker Presents Saint Sinner from SCI FI Channel". CliveBarker.com. Archived from the original on December 30, 2010. http://www.clivebarker.com/html/visions/bib/movie/saint_sinner/ss_trailer.htm.

 
External Links