Makhi (eBook)
Jump to navigation
Jump to search
Makhi

Makhi Original eBook Cover,
written by Mahalia Levey
Author(s)
Mahalia Levey
Series
Incubus Enforcers
Publisher
Liquid Silver Books (Original)
Mahalia Levey (Reissue)
Publication date
August 20, 2011 (Original)
September 13, 2015 (Reissue)
Media type
eBook
Length
111 Pages
ASIN
B015DFMIYC
For other uses of the word Incubus, see Incubus (disambiguation).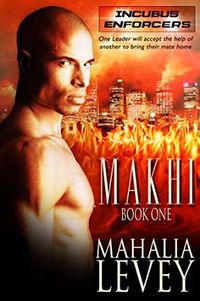 Makhi is an eBook written by Mahalia Levey. It is the first work in the Incubus Enforcers series by this author. In this work the character Makhi has powers and abilities which are similar to that of an Incubus.
Overview
Title: Makhi
Author: Mahalia Levey
Published By: Liquid Silver Books (Original), Mahalia Levey (Reissue)
Length: 111 Pages
Format: eBook
ASIN: B015DFMIYC
Publishing Date: August 20, 2011 (Original), September 13, 2015 (Reissue)
Plot Summary
Enforcer Makhi didn't expect to fall for a woman. However, one look at the new female in need of defending brings out the dead emotions of his incubus. Be it the fates will to bless him as her counterpart, he plans to teach her the fine art of self-control and satisfy her on every level imaginable.
Kamaria Valentin is scared for her life. Blackouts, strange cravings for violence and blood have plagued her for the last two years. Add hot sex dreams with a nameless face and she's one hot mess. Ready to break, the need for answers pushes her to free herself from the prison holding her a drugged captive.
Caedon Bolton searches for the lost. Deities looking for home, for sanctuary. One night a vulnerable soul screams out to him in her dreams, he must find her and save her from the brink of death. Once he has Kama in his arms, Caedon realizes only he can give her the emotional support she craves.
Book Review
At the time of this article's entry in the SuccuWiki, no review was available. Tera has this work on her reading list and will review it shortly.
External Links